16th April 2015. Coming back from Songkran festival in Krabi & Hatyai, my first and most probably my last.
Its nothing of a cultural festival that I was expecting, with the addition of pressure water gun, iced water and some color dyed. Yes it was fun for a day, Full Stop!
Well.. I can do this anywhere and certainly didn't feel my year was any new after that…
On my way back to Singapore, as usual I will skip the NSE (Malaysia North-South Expressway) . I pick a point in Google Map and found a spot with a decent night stay over in Pulai, Gua Musang and decide to head there.
Exit through my favorite Thailand-Malaysia border at Rantau Panjang, it was usual and nothing eventful until I was just about 2 hours into my destination. and the turn of an event begin…
The bridge was gone!
Unaware to me, the bridge was destroyed by a huge floods in Kelantan just months before.
EDIT: Finally I got the name of the bridge: Jembatan (bridge) Pulau Setalu
Surely I didn't see it coming.. obviously not my GPS and Google Map either!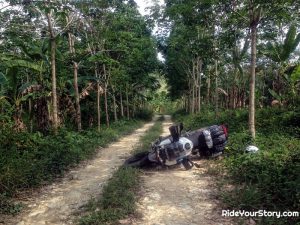 Trying to find an alternative route or perhaps a temporary bridge across only make my predicament worst.
I venture too far deep into the isolate woods and I drop my monster.
I was exhausted by now and running out of water, and twice I tried but just couldn't lift up this tractor, and each time only leave me gasping for breath like a asthmatic.
When I did eventually on the third try, and coincidentally a young man on a Kapchai (underbone, mopeds, motor bebek) rode pass.
Instinctively I asked for a direction to cross this river, and apparently there is a ferry service that can bring motorcycle across, just down the river bank.
He guided me there…
To my astonishment, the ferry was serviced by a sampan, fit enough to carry few passengers and a small Kapchai that he was riding, definitely not my overweight beast.
A brainstorming session with the ferry operator comes to no avail, and his suggestion was for me to turn back and took another ring route to bypass this river, which will be an additional of 2.5 hours ride with some bad roads destroyed by the same flood and in which I just rode pass. I dragged that option.
During our conversation I learned they are just villagers nearby banking on this opportunity.
And thanks to them, the transportation network continues, except for cars, while the bridge are being fixed by the slow bureaucratic process.
Their enthusiasm to help me across astonish me. Just when I am giving up and decide to turn back. The elders requested one of younger man to head back to the village for help. When the additional boat, they cleverly suggested to tow the jetty across with the us and motorcycle on board.
And with their help, we made it across…
I wouldn't expect a 5 seconds dash across a nameless bridge could set me back with an hour of ordeal.
This episode taught me the importance of transportation infrastructure and how it could elevate the development of the local economy ,or it could disrupt a lifestyle of the populace.
Latest : As of now, a temporary bridge was built across the Sungai Betis river. Route D29 is now passable by all traffic.

Link : Google Street View

image from Google Street View
With the boatmen duly rewarded, I continue my journey to my rest stop before heading back to Singapore the next day.
Kumpung Pulai, a randomly picked Hakka town on the outskirt of Gua Musang. Apparently this quiet town have a 600 years old history behind.. Unfortunately I didn't plan enough time to explore the areas, the caves in the hills and rivers. Potentially this area is a good site for exploration by hike and equally on bike.
But I do have a insect infested 'resort' and a creepy cave guarded by huge spiders all to myself.
Maybe next time…
[LINK TO COMMENT & DISCUSSION FOR THIS POST]