18th October 2015, Pakse. I met a cyclist yesterday while on the way back from Hong Nang Sida. While sharing our trip and exchanging travel tips. He told me about riding the loop over Bolaven Plateau.This got me interested. It is a shame I did not do enough homework about this place before my trip, other than the ancient site in my list. This is a hastily planned trip and most places I am going, I am going in blind. Still there is more joy in exploration and discovery…
The traveler sees what he sees.
The tourist sees what he has come to see.
– G.K.Chesterton
My next destination is Savannakhet, which is just about 244km away from Pakse. Though I've allocated a half day ride across, not knowing what the road conditions are. But the curiosity got the best of me, and I could not miss this opportunity to do the loop while I am already here.
I could spare half a morning and ride that Bolaven Plateau, or at least part of it. I am not that keen to complete it, at least not this unplanned route.. I am more interested in the scenic landscape I can discover along my way. Just the kind of traveling I seek, unplanned and with no fixed route. This will only be a orientation trip.
I decided to do the smaller loop. in order to reach Savannakhet before sunset.
Bolaven Plateau Loop – Being in a tropical climate. unless you are high up on the hill or mountain pass. One could hardly find a photographic view of landscape. Often, the views were obscured by the lush trees and bushes. The padi fields and plantations are the only fields that can offer one a wider field of angle of the horizon. With this understanding, my curiosity always lure me into the trail by the side of the asphalt, with often lead me to a hidden paradise. though more often get me into trouble finding my way out,with reluctance of making a track back.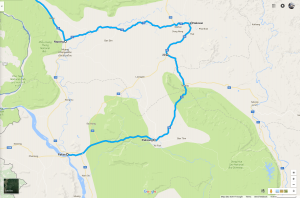 The smaller loop will take me to Salavan from Pakong, instead of turning back to Pakse from Tat Lo. The big loop will extend to Sekong from Paksong, and from Thateng to Tat Lo. One can go further south to Attapeu. I will ride to Sanannakhet from Napong. I learned later that there are many attraction within the Bolaven Platreau, coffee plantations and waterfalls ,though some other seems like a typical tourist trap.
I will be back someday, Will spent more days exploring the areas, not the touristy place, but just indulging myself in the laid back village life, nature… and with a slower ride perhaps…