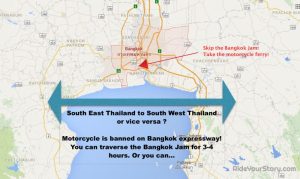 Are you coming from South Thailand and heading to South-West Thailand?
To popular destination like Pattaya or towards the border of Cambodia, Koh Kong ?
Or coming from the opposite direction towards East ?
Do you want to avoid the Bangkok Jam ?
"Oh yes.. if you are 'that' type of rider who load up their bike onto the train in Hat Yai and 'ride' into the heart of Hua Lumphong. You'll … errr… probably don't need to read any further."
Take the Phra Pradaeng motorcycle ferry and cross the Chao Phraya River.
It will save you hours of butt burning Bangkok heat.
Motorcycle are banned within the Bangkok expressway. (or all of Thailand ??)
In 'general' (because their rules are just confusing as the traffic and the overly gorgeous male species)
Motorcycles are not allowed on :
Toll expressway
Overpass
Multi-lane carriageways where this is a 'Frontage Road'
Outside lanes of dual carriageways (so where should I ride ?)

since April'16 – 45 flyovers and underpasses were added to this list
(Credit to Falang of advrider.com for the info.The following are compiled for easy reference)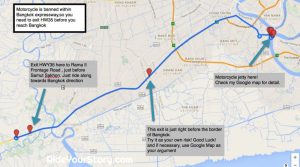 From HWY35, exit to Rama II Frontage Road before Samut Sakhom.
(Yes I know! it's not even near the Bangkok border but I wouldn't want to take a risk with a police thirsty for a Thai Iced Coffee. For that hours of interrogation just to make you guilty enough to pay the fluctuated fine (is it even official?), I would rather ride into the city and for the same price and hours spent, I could get a decent massage (or more!) than a facial wash from a smiling chief. I may even get an official receipt too!)
Ride towards Bangkok along Rama II Frontage Road and make a right turn on Thanon Suksawat.
(If you have trouble pronouncing thai names. Try this, it may help. The local street name is written as ถนน สุขสวัสดิ์)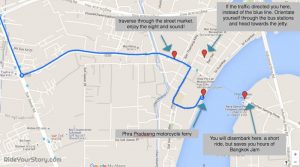 Wait!.. why am I doing this? you can read maps I hope! …Use this : Google Map Link
and If it still doesn't help, try this instead AirAsia.com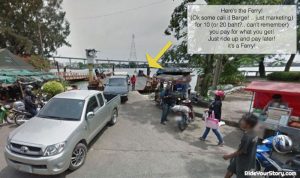 If you find the FERRY Jetty!.. just ride up the FERRY and enjoy the FERRY ride!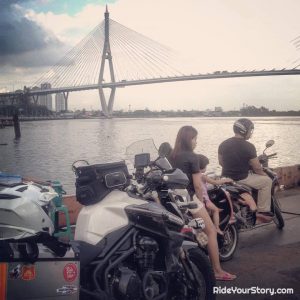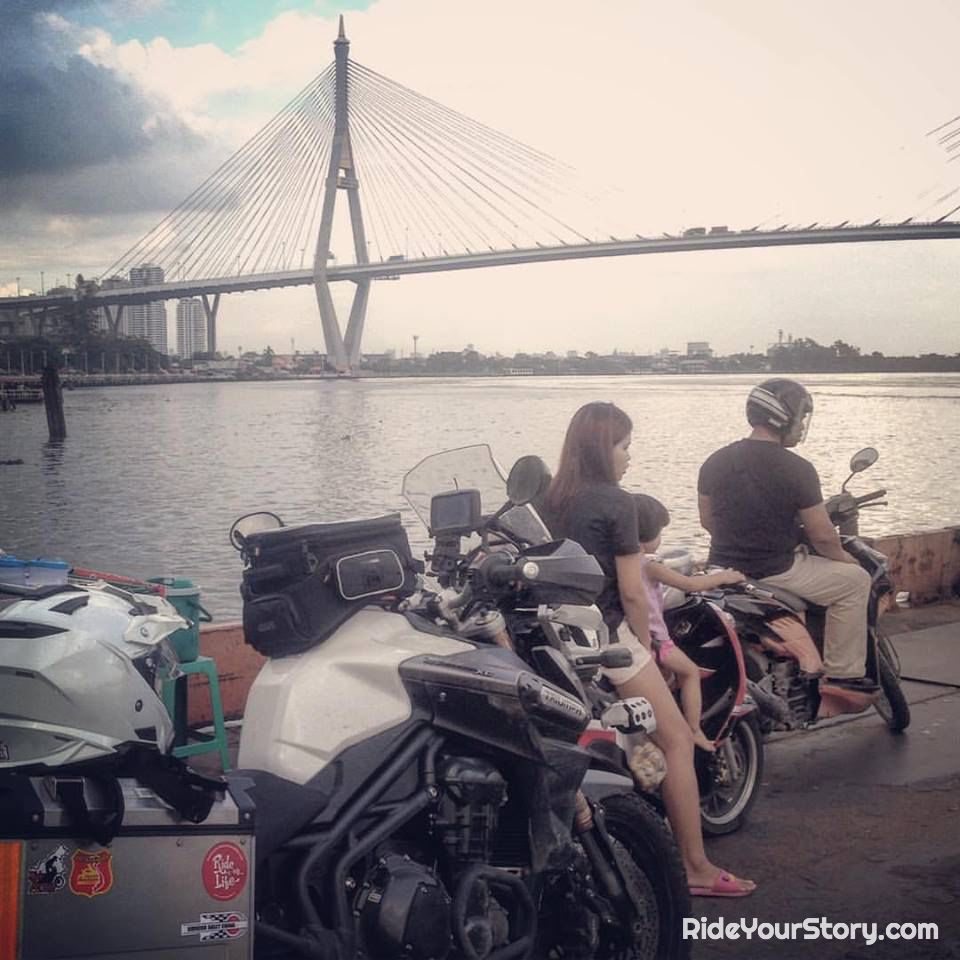 Take that short cruise across Chao Phraya River and watch the Bangkok traffic crawling over the flyover
---
Resource:
Google Map Link (view map in new window)

Youtube video submitted by read Sheldon Thomson (video shown coming from opposite direction)

Leave a comment if this information need to be updated or if you know of an alternative route.
---