I was organizing my old hard drives and found these photos in a forgotten album. It could well be my first long distance solo ride, circumnavigating the island of Singapore. A laughable achievement to conquer an island with less than 200km (120 mi) of coastline. Hence this post is more for my journal and for my memory.
The Background Story
I got my motorcycle license in 2009, as a warrant to search for a new path (or route ?) in the midst of my existential crisis. I was already on my way to relocate to Shanghai for a new job posting just a month after my driving test, and I failed. Somehow the path was laid and I was given another chance as my China work visa application was in complication and delayed. But I had only one last date to take the test – a day just before my impending departure. I passed.
It was a year later before I could receive my license when I return home for a holiday. Its never too late! With it I was able to bluff my way to rent and join tours in Tibet, Sabah and Vietnam. Until 2012 when I returned to Singapore and got my first bike – Derbi Terra Adventure 125. This will be the first time I utilize my license locally. The new frontier was open! I had my own bike and I can ride up north! I had opportunity to ride with a bike group by then. The routine Breakfast Ride & Supper Run to our northern neighbor of the State of Johore. I even done a Round West Malaysia (gliding on all 11 states and 2 federal territories of Peninsula Malaysia) with another riding mate (because only 2 of us show up). But I need the experience to ride alone and the most comfortable 'adventurous' venture is to circumnavigate my island of Singapore. I must have woke up on the wrong side of the sofa.
Perhaps this morning! I could be just bored back then so I decided to ride around the island. I don't quite remember as it happened back in 2013, as dated in the photos. I could have just make up the story so as to elongate this post as I don't have any good photos taken to compliment this post. Just mere 6 shots taken with a top of the line of the time – a iPhone 4 with a 5MP camera. My first ever smartphone. Yes I am always a late bloomer!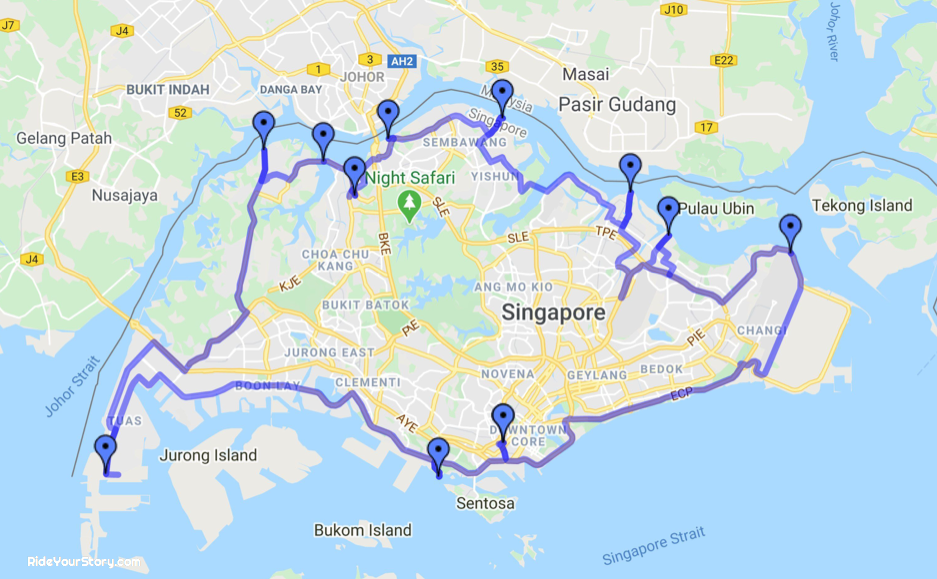 Plotting the Route
But I do remember clearly this part. This plan is to plot ride the closest publicly accessible road encircling the island's perimeter. With a little cheat along East Coast Parkway as these vicinity are all too familiar to me. And added with a wrong turn from Punggol into Paya Lebar Air Base. The shown map was generated in April 2020, but the route was retrieved from my Garmin dated February 2013. Singapore has expanded since then. Notably on the most eastern end with the airport expansion and south-western port of Tuas. The two economic engine of Singapore.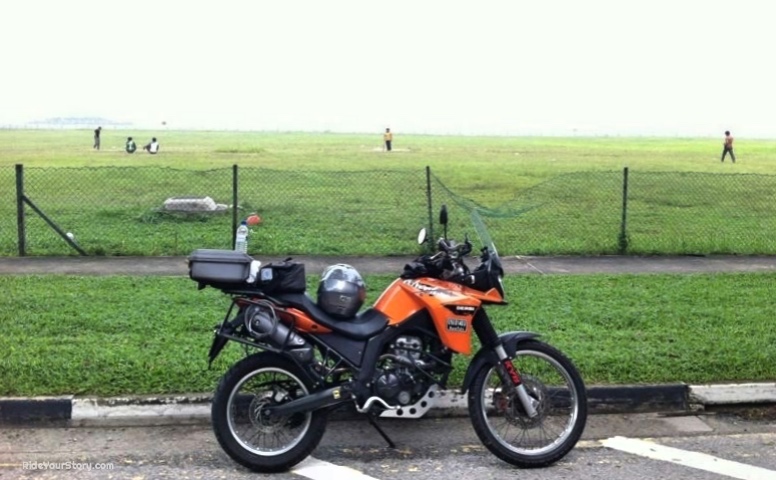 The Ride
At a total distance 163km, which can be completed in about 1.5 hrs at a constant regulated speed. If i can recall it took me 4.5 hours of leisure cruising with plenty of time chilling at various point – Watching a cricket match in Tuas while munching my breakfast bun, reminiscing the long and somber road back to the army camp, trying to spot any Estuarine crocodiles at the end of Lim Chu Kang Road and Kranji Way, watching the fish trolling the fisherman in Sembawang Park, visiting a renewed Punggol Point Park (it was then!) to savor my favorite Lontong (from my weekend canoeing days) for lunch in Changi Village hawker center and plane watching at the former Changi Coast Road.
I must be very bored!
There could be more to see on our little island I am sure. But this is one whole lot of achievement done in a less than a half day's work!
Perhaps I should rekindle this ride again. To rejuvenate my curiosity to explore my very own island. Though my smaller bike was long sold and my current bulky beast was an overkill to even ride in the city, let alone for cafe hopping. But this is the only ride I had now. Regretfully sold my other Royal Enfield Classic 350. While it can't replicate the experience of venturing out of the border into a different culture, sight and sounds. It can be the opportunity to re-appreciate the over-familiarity.
On a footnote. There is one caveat for those who bought a ride intentionally to escape temporarily from life's penitentiary – especially from the missus. You know who you are. Adjust your intention and expectation. Even from the furthest point on the island, you are still less than an hour away from reality. What/Whoever you are trying to emancipate from even for a moment. You are not going to get very far…