If you ever need an catalyst or impetus to accompany your other half to trip in Japan. Add motorcycle gear shopping to counter her own shopping list, or you will be having a rough time examining the benches and posing next to the mannequin in every boutique. With the nightlife out of the list as a dumb Gaijin, and without a local (male) friend. You are left with the tourist spots, video games, J-League shop and manga browsing. So make the best of the trip.
And it is the first thing I did when we decided to head to Tokyo. I search and found NAPS Motorcycle Supply (オートバイ用品店ナップス). And I am good to go! The other trip itinerary are just complimentary.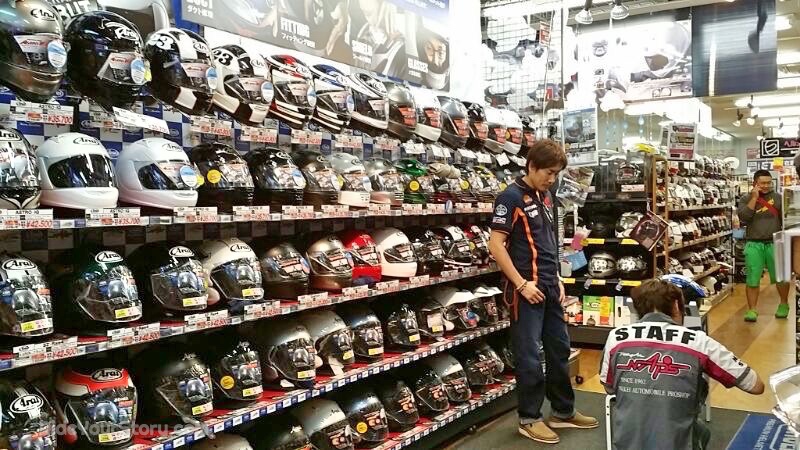 NAPS in Tokyo
NAPS Adachi (ナップス足立店) is the first store I went to. There are about 6 other NAPS store scatter throughout Tokyo. Thanks to my partner's sibling who can read Japanese. He chose this for me as this is one of the closest outlet to our place of stay and located within walking distance from Ayase Station (綾瀬駅, Ayase-eki). Though you can take a bus with 3 stops. The explorer in me prefer to walk and soak in the local residence atmosphere, much to the annoyance of my partner.
This area is a quiet neighborhood. I assume most family are keeping themselves indoor. The convenience store and eatery are sparse but complete, coupled by the vending machine along the pathway. The building of NAPS is unexpectedly does not impress, at least not until you step into the entrance of this 3 stories grey wall-tiled functional building. It serves its function very well!
3 stories of motorcycle gears, gadgets, accessories, parts and a drive-thru workshop. A one-stop center to cater for more than your needs. They have a complete product of all available Japanese brands and many popular foreign labels. What is more impressive is their customer oriented service. Helmets, for example, of all the brand in the store. Displayed nearly on shelves are all the available colors and models and in all available sizes. A blessing for me who wore a size 2XL helmet. Customer are free to try out the helmet but with a provided hygiene head cover. Do take off your shoes when you are in the fitting room. Rows of latest and last season jackets for all weathers are categories for your viewing. Not to mentions more rows for gloves, boots, riding pants etc.
It was suppose to be a morning trip, an hour at most. But without any awareness I spent 4 hours on just one level. More than 2 hours past our lunch hour and with a staring grumpy face boiling on the bench next to a mannequin. I have to stop and with it I have a pile of 2 helmets, 2 jackets, 1 pant, few gloves, head gears and some impulsive buy. With my passport we get a tax-exemption. And best of all, without asking they offer to sent it to my hotel for no extra charge!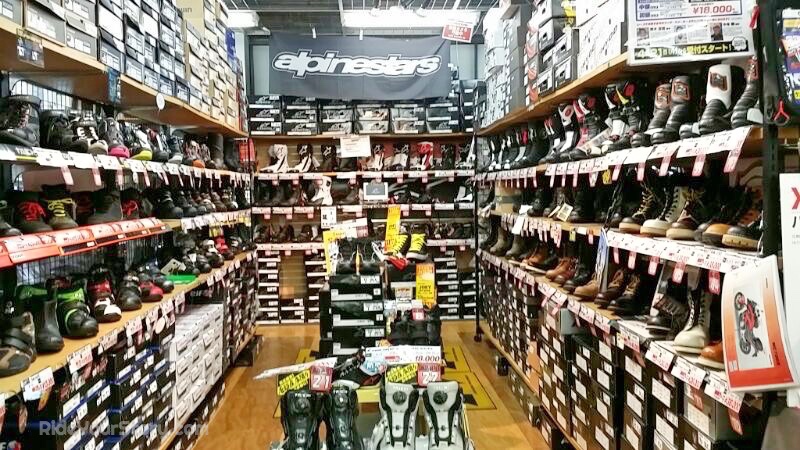 Price Comparison
Buy only Japanese brands, of course! There are no tax economy reason to buy US or European brand here. But you will definitely enjoy fiddling the full range of their products and gears on display. Other than the popular Komine brand, there are dozen other Japanese brand that were not marketed overseas. It is a titillating joy just to browse the shelves of cloths like a teenage girl. I did notice almost all of the Komine jacket sold comes complete with protectors, especially the back inner protector, even with the lower local origin price. Whilst those I bought back in Singapore from the authorized distributor. These are optional that are to be purchased separately at an additional hefty price, if included, are just the foam protector. Otherwise they are none at all but empty pocket, for your pocket.
Refueling Station
With our hands free of shopping bags. We drag our growling stomach to the station but found a Izakaya – Yūshokuka-Raku (遊食家 楽) just a short distance away. They have good set meal for a hungry lost tourist. Be careful when you are ordering a macha tea, I thirstily pointed my finger to one which is blended with sake and I was high for the rest of the afternoon.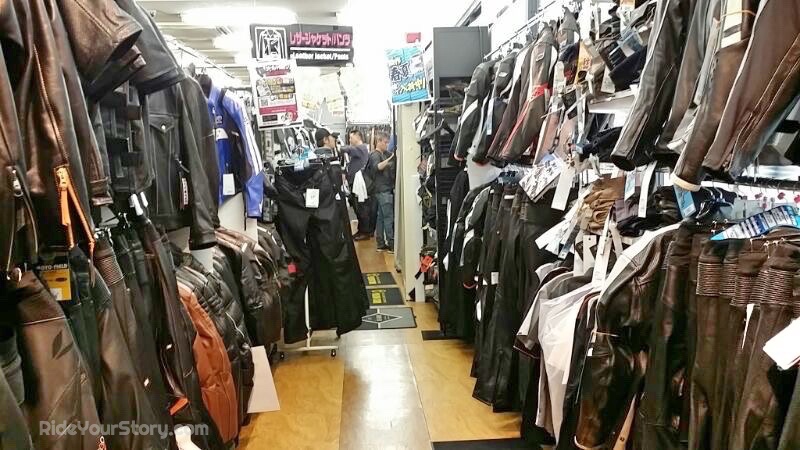 NAPS in Fukuoka
My next experience was with NAPS Fukuoka (ナップス 福岡店) was in the city of Fukuoka. Unlike in Tokyo, this is the only store in this city. We took a bus since it has a direct connection from our hotel.
Similar setup to the store in Adachi, Toyko. Though with only 2 level, but not incomplete. A drive-thru workshop again at the lower level/basement. I spent about 2 hours this time, having got most of gear before and didn't require any replacement and also to limit impulsive buying.
But we are more aware of our time this time. After shorting listing of what I need. We head to Tonkatsu Hamakatsu Restaurant (とんかつ濵かつ ), just 220m walking distance for lunch. A friendly family restaurant that serves various katsu. There's a McDonald's closer, for the more adventurous.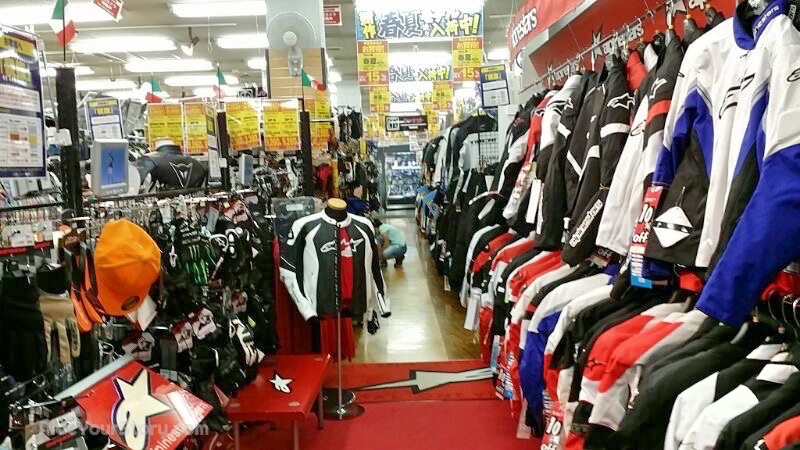 Shopping Experience
After lunch, we head back to complete my shopping. Unfortunately they did not have Shoei Hornet ADV helmet of my size in stock. The dilemma of a 2XL sized head since the riding school days. Where I have to suffer enormously during driving test wearing the filthy, germs and bacteria farm, size XL helmet that crushed my head, all because of that laughable SPRING Singapore approval sticker. The same authority that approved a $10 helmet sold at a popular 'wholesale priced' shop in Singapore. When I ask for a 2XL size instead of the given XL size helmet, all the shop assistant did was to go behind the counter and replace the size sticker on the very same helmet. That sums up my gear shopping experience back home.
The staff in Japan, as expected in their culture, are very patience and helpful. My language deficiency is not a barrier as they will try to provide an answer with an online translator. They arranged for a restock immediately and it will arrive as soon as the next day. And to keep me informed, they ask for the contact of my hotel and will notify me as soon as it arrive. I paid for what I need, a winter jacket for my trips in Himalaya, a few replacement gloves and a rain jacket sans the helmet. Again with tax free and free delivery to hotel. I proceed to our next itinerary a happy man.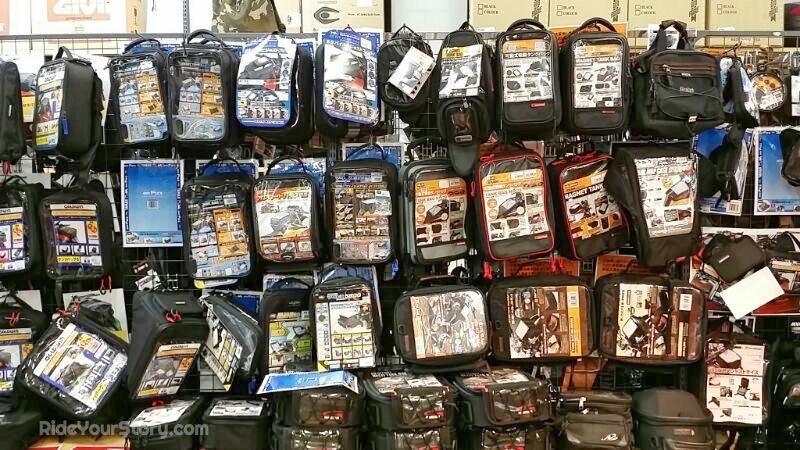 The next day, without fail I received a note from our hotel. My requested helmet is here! I took a bus, this time alone, as she had her own precious time. As glad as I have my own to clock more hours wandering through the heavenly maze. As soon as I asked for the helmet, they remember me and immediately show me to a shelf where a few boxes 2XL are ready for my selection. They open a box for me to inspect and try on with a disposable head cover. At no time did they let me feel I am obligated to purchase. But I did got I wanted and with some time to spare glancing through the other non-essential merchandise that I missed – stickers, kawaii keychains, bike magazines that I cannot read etc.
I am sure there are other good motorcycle shop in Japan. But NAPS have more than I can carry need and carry home under one roof. Unless you are looking for a shop in a sub-urban area. They have a shop in most major cities, and one overseas outlet in New Taipei (新北市), Taiwan. If you have a recommendation of other motorcycle shop, let me know.
On the other hand, to ride in Japan is added to my list…
---
NAPS shops location in Japan and overseas
For the convenience to those who can't read Kanji to navigate their website. Here are the list of location named in English (Compiled on April 2020 from NAPS Shop List)
| REGION / SHOP NAME | WARD, CITY, PREFECTURE |
| --- | --- |
| | |
| Kanto (関東) | |
| ナップスベイサイド幸浦店 | Sachiura, Kanazawa Ward, Yokohama, Kanagawa |
| ナップス横浜店 | Yokohama City |
| ナップス港北店 | Kohoku, Yokohama, Kanagawa |
| ナップス座間店 | Zama, Kanagawa |
| ナップス相模原店 | Sagamihara, Kanagawa |
| ナップス伊勢原店 | Isehara, Kanagawa |
| ナップス練馬店 | Nerima, Tokyo |
| ナップス足立店 | Adachi, Tokyo |
| ナップス多摩境店 | Machida, Tokyo |
| ナップス三鷹東八店 | Mitaka, Tokyo |
| ナップス埼玉店 | Saitama City, Saitama |
| ナップス千葉北インター店 | Chiba City, Inage Ward, Chiba |
| ナップス前橋インター店 | Takasaki, Maebashi, Gunma |
| アップガレージライダース ナップス足立店 | Adachi, Tokyo |
| アップガレージライダース ナップス三鷹東八店 | Mitaka, Tokyo |
| アップガレージライダース ナップス前橋インター店 | Takasaki, Maebashi, Gunma |
| | |
| Tohoku • Shin'etsu (東北・上信越) | |
| ナップス仙台泉インター店 | Tomiya, Sendai, Miyagi |
| | |
| Tōkai (東海) | |
| ナップス名古屋南店 | Nagoya, Aichi |
| ナップス浜松店 | Hamamatsu, Shizuoka |
| ナップス豊橋店 | Toyohashi, Aichi |
| | |
| Kansai (関西) | |
| ナップス東大阪店 | Higashiosaka, Osaka |
| | |
| Chūgoku • Shikoku (中国・四国) | |
| ナップス広島店 | Hiroshima City, Hiroshima |
| ナップス岡山店 | Okayama City, Okayama |
| アップガレージライダース ナップス広島店 | Hiroshima City, Hiroshima |
| | |
| Kyushu (九州) | |
| ナップス福岡店 | Fukuoka City, Fukuoka |
| | |
| Overseas Outlet (海外) | |
| ナップス台湾新北店 (納普司 台灣) | New Taipei, Taiwan |
| | |