Update : Revision to Visa Exemption Scheme Regulation . 12 Nov 2018
With effect from 12 November 2018. Singapore passport holders are now entitled to unlimited entry via land borders, and up to 30 days visa exemption per entry. Which is a even a better news for those traveling out and back into Thailand from neighboring popular biker destination like Laos, Cambodia and Myanmar.
Below are the notice from Royal Thai Embassy of Singapore
The following visa application are not required unless you intend to stay in Thailand for more than the 30 days visa free allowance.
---
---
* Below are procedure to apply for a Thai Visa when Singapore overlander were restricted to only 2 land border entry per calendar year and up to 15 days per entry. I will leave it here for reference, and as information for those who may need to apply to stay in Thailand beyond the visa-free 30 days allowance.
---
---
As you should know by now. All overland travelers into Thailand are only allowed 2 visa-free entry per year, of up to 15 days per entry. Any trip beyond 15 days (up to 30 days) and third trip of the year onwards will require one to apply for a tourist visa in advance.
As of 1st June 2017, The Thai Embassy Singapore have waived the S$50 visa fee for Singapore passport holder. So you pay nothing but time and inconvenience.
Simple as it sounds, but when I first make my application in early June. I found the official website have yet to include clear instructions for Singapore Passport holders, especially overland travellers on a self-driving. Hence the application procedure can be annoying and confusing at time.
And here's what i did to successfully apply for my first Thai visa…
From 1st February 2017, Applicants can apply for Thai visa online prior to your submission of passport and relevant documents upon approval.
---
Step 1 : Go to https://visaonline.thaiembassy.sg/ as stated in the INSTRUCTIONS FOR VISA APPLICATION on the Thai Embassy Singapore website. Register for an account.
---
Step 2 : Login and you will be prompt with this Welcome page and instructions. Click APPLY FOR VISA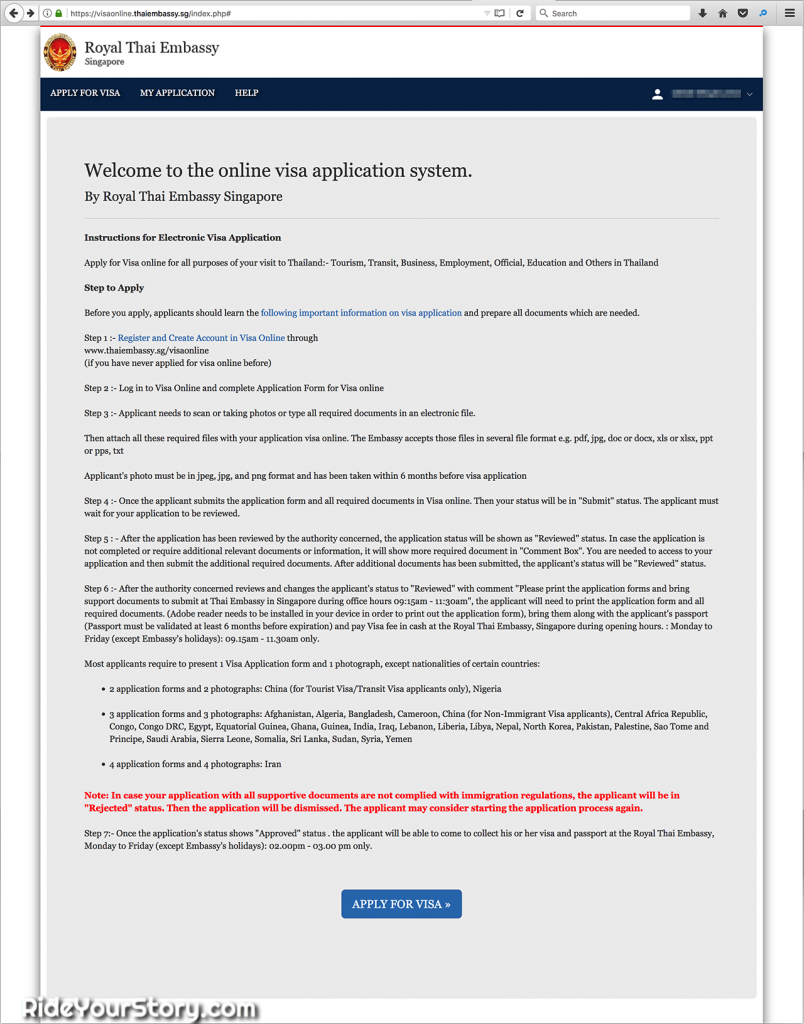 ---
Step 3 : On next page, select the Type of Visa : Tourist Visa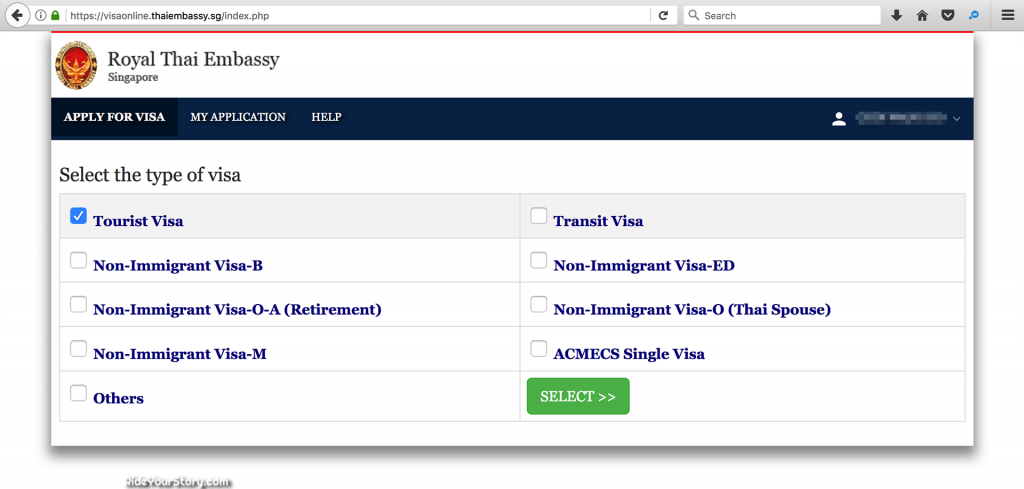 ---
Step 4 : You will be shown the same Visa Requirements page from the Thai Embassy Singapore. (As you can see there aren't any relevant information for 'Singapore Citizen, especially overland travelers). Just scroll down and click CREATE VISA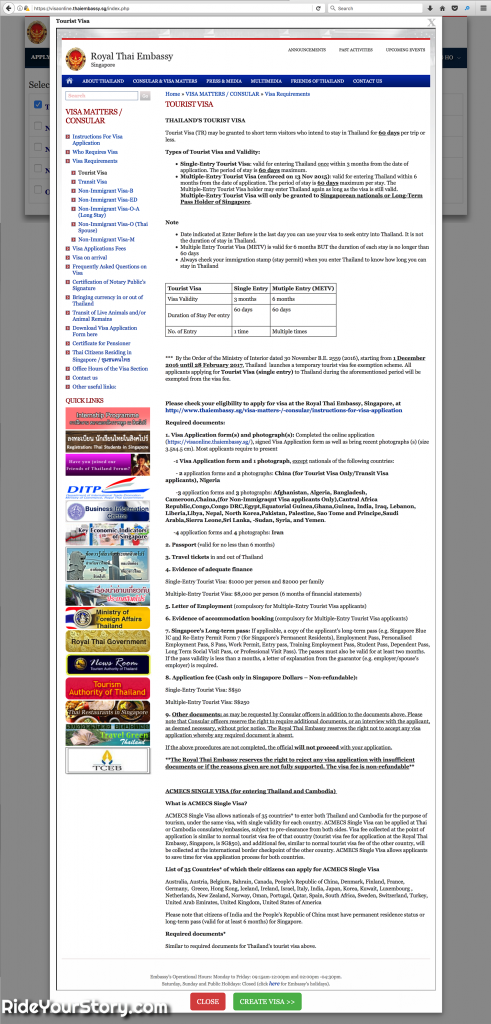 ---
Step 5 : Input your Passport number on next page.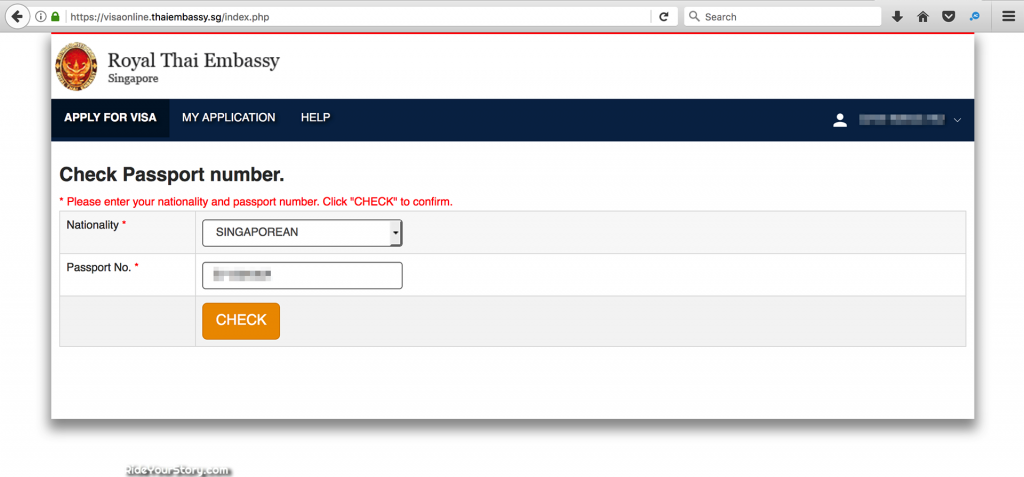 ---
Step 6 : Upload your photo and passport scan (I took a photo of both with my iPhone) and input all your personal data. However, I left out some information which I do not think they require (as these was not clarified in the Visa Requirement page)

---
Step 7 : This page is where one will get lost. There wasn't any information for overland travelers and especially self-drive. On my first submission, I did not upload any documents since I do not know what they require exactly, and I just hit Submit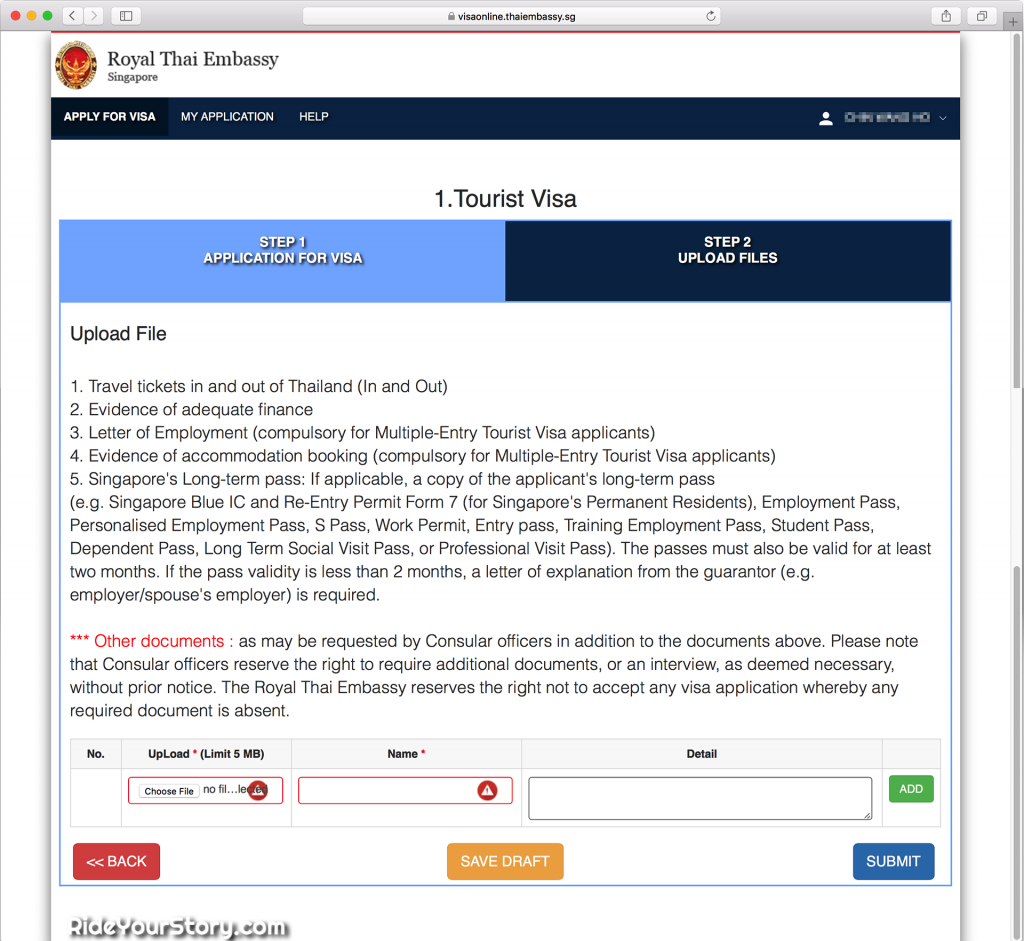 You can check your application status by login in the next working day.

You can also view your application, which you will require to print for your documents submission day.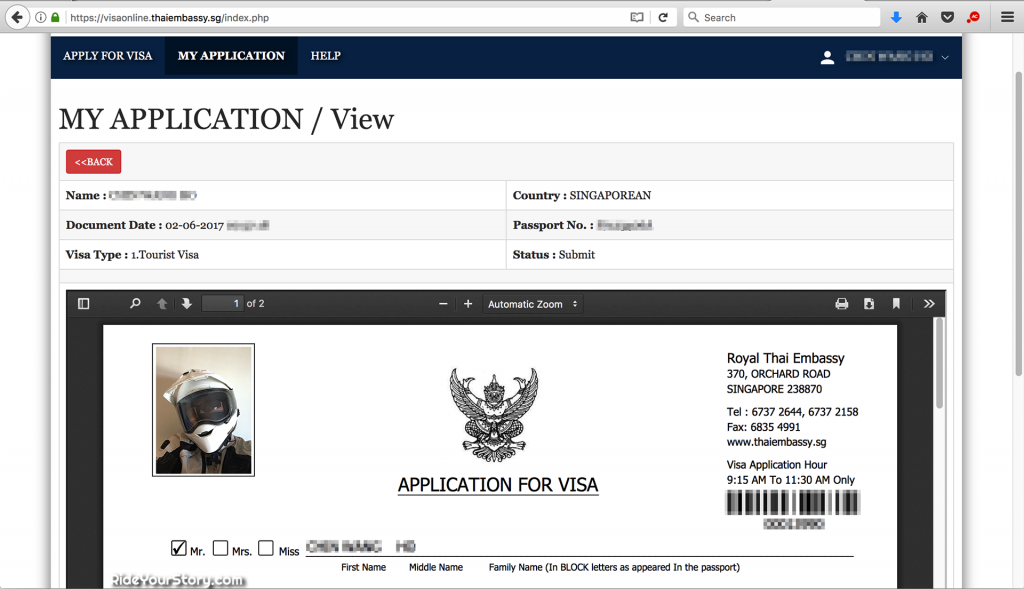 ---
Step 8 : The next day, I check my application status and stated on the Official Comment they require these two documents, finally!! – Vehicle Log Book and Bank Statement. I uploaded it promptly.
You can get your Vehicle Lg Book from www.onemotoring.com.sg.
Other documents may be requested, eg. Multiple-Entry visa will need to submit their Letter of Employment & 'Evidence of accommodation booking'.
Comment and share with us for discussion if you are requested for other documents beside those stated above.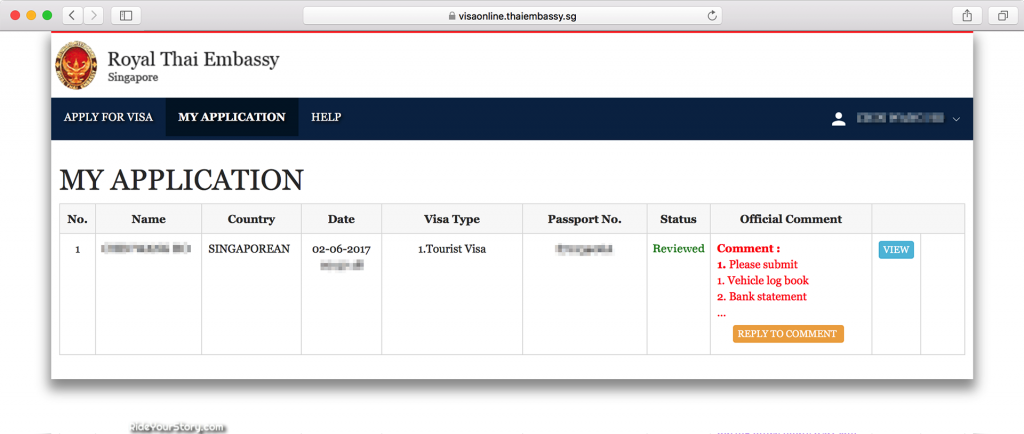 ---
Step 9 : When your status are Approved. You will need to print out the Application form and the required documents and submit in person to the Thai Embassy Singapore between 9:15-11:30am at 370, Orchard Road.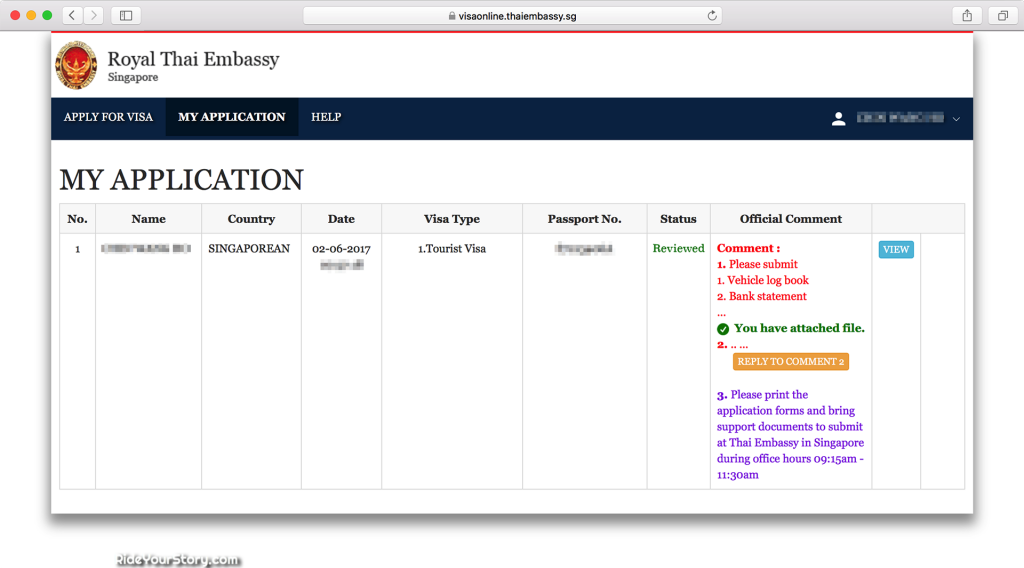 ---
Step 10 : Upon submission, you will be given a collection slip. Note the collection time.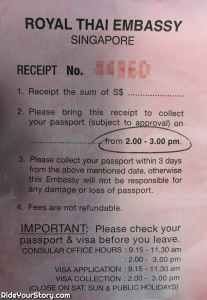 ---
Step 11 : Collection day! Note that the visa are valid for entry within 3 months only. Get your bike and gear ready! And do expect some of your gang to back out for the same overused reason.
Just ride on your own…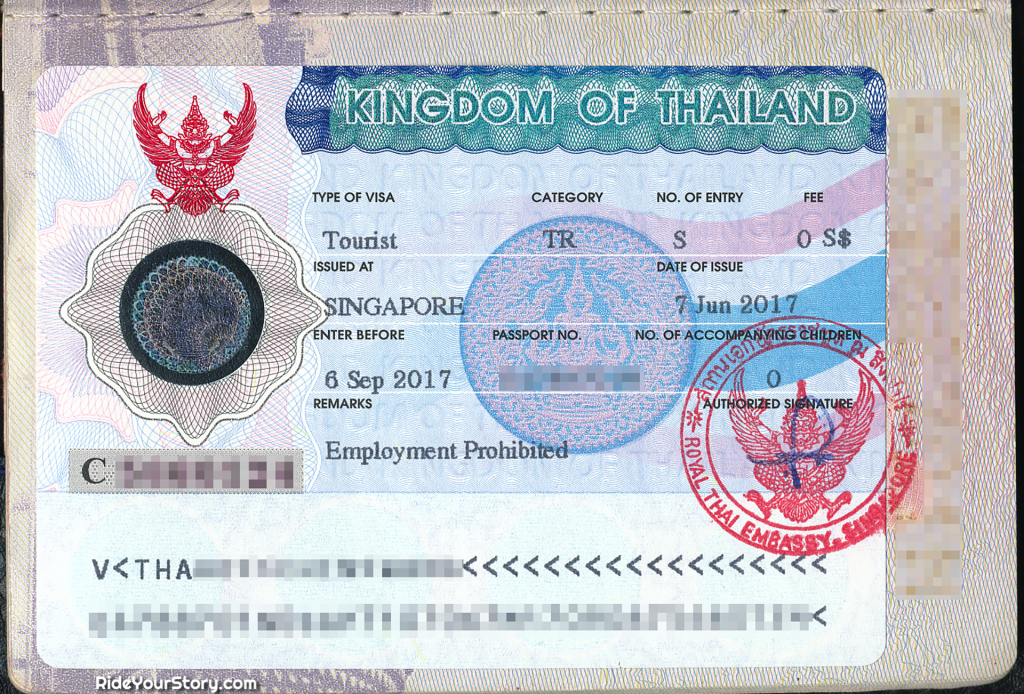 ---
Nothing to see here now…But If you are going in for the 4th time onwards within the year… go back to Step 2.
Best of luck and when all is done! You'll need to plan the trip and find your stays..
Enjoy and ride your story!