A ride from Singapore to Wat Pa Tam Wua Forest Monastery in Mae Hong Son for a meditation retreat.
My original plan was to fly in to Chiang Mai, but since I have a bike – my trusty Triumph Tiger Explorer and the monastery is situated right at the north of Mae Hong Son. There's no better mix of excuses to ride there… yes?
It took me eight days to reached Pai (I'm not an expressway rider…it's boring!). From Genting in Malaysia (on a short trip with a weekend group) – Hatyai – Chumphon – Prachuap Khiri Khan – Bangkok – Kamphaeng Phet – Lampang and finally in Pai for two nights stay to condition my mind before my intended seven days retreat in the monastery.
With the new immigration rule imposed for overland travelers into Thailand, I had to applied for my Thai visa in advance, in order to stay beyond 15 days.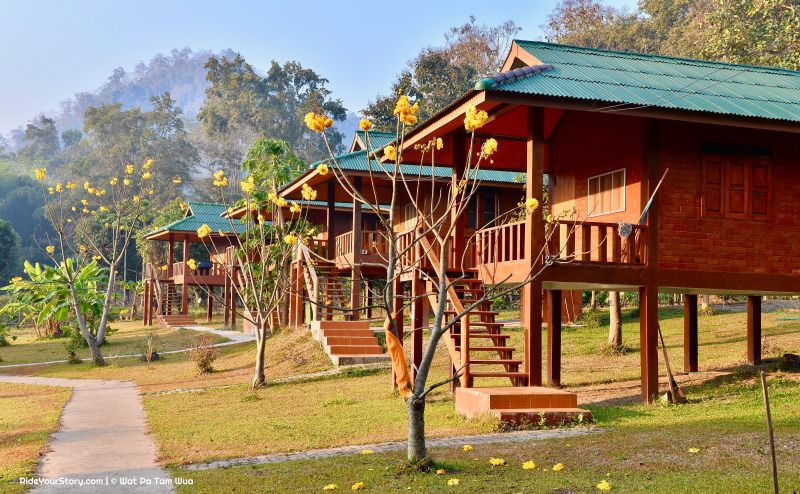 A little bit… and impression of Wat Pa Tam Wua
Wat Pa Tam Wua (Forest Monastery) – situated between Pai and Mae Hong Son town. Located in a secluded and tranquil valley between picturesque mountains with running rivers and natural caves. it is an ideal settings for a retreat, away from the bustle and distraction from the city life. Unlike most other monastery, which have elaborate Thai temple architecture. Wat Pa Tam Tam are modest and the building blends with the neighboring village and natural surrounding.
However it is still a monastery, so Buddhist traditions and Thai customs are observed here. There are also many other secular meditation center located throughout Thailand you may find.
Nonetheless all visitors to this monastery are welcome, from beginner to advance meditation practitioner. Participants here are make up of mostly foreigner. 80-90% of us at times, with majority are from the western hemisphere and from various religious background. While many are travelers who are here to experience life in a Thai Buddhist monastery and to learn about meditation, others are active practitioner.
The occasional Thai community arriving here are the biggest contributor to the monastery. No expenses are incurred by any participants, the monastery are fully funded by voluntary donation.
The lessons are taught in simple English and Thai. The chanting are done in Pali (a language native to the early Indian sub-continent found in the earliest Buddhist text), Thai and English. Though the English translation will need some re-work, for the benefit of the majority and it will be interesting to see what the Pali character looks like instead of the translation in Roman alphabets.
The daily schedule in the monastery
Waking up at 5am to meditate on your own in your kuti (little cottage) or dormitory. With a total of 6 hours of meditation per day in the morning, afternoon and evening. No dinner will be served after midday in accordance with the monastic rules. A further reading claims it will reduce metabolism which will aid in your meditation practice, and since less energy are required by your body while you are in a meditative routine. I am a person who eat 6 small meals per day, so this is hard to cope with for the first two day. But surprisingly, like everyone else I get accustomed to this routine eventually. Before each meal there will be a meal offering custom to the monks. Cleaning of area, done while being mindful, is a daily chore. And lights will be off by 10pm every night.

The Meditation practice
Mindfulness of breathing or Vipassana meditation is taught and practice here. Every morning and afternoon session will start with a walking meditation, being mindful of every breath and step. Follow by sitting meditation and ends with a lying meditation for each session. It seems easy but the technique to concentrate, control and be mindful of your thought will need progressive practices. And being motionless while seated is another struggle in the beginning. Only on my fourth day I could concentrate my mind away from my physical discomfort, but my wandering thoughts will need more training which seems to improve over the period of my stay.
For more information on Wat Pa Tam Wua : watpatamwua.com
Photos within monastery by Pravit Kola
My time in the monastery
I spend two days in Pai just to clear my mind and distraction before my arrival at the monastery. Meditation helps to improve my control of my feelings and wandering thoughts – worries, fear, anxiety and various negative emotions. Most of which as you will be mindfully aware are just negative feelings that are either self imposed or that may to lead more undesirable action or outcome.
The time away from the distraction of the world – news, social media etc. provides me a clearer mind to find and renew my own purpose and view.
And in many ways, it helps me to be mindful of my every action, particularly while spreading my arms on the handlebar.
My vow of silence in the monastery was however interrupted by one of the resident volunteer. He is from Bangkok and is a avid biker. He has been in the monastery for the last 7-8 months. Having sold his Harley and a BMW GS, disengaged himself from his riding group just so he can concentrate on his meditation in the monastery. My arrival seems to disrupt his momentum and reignite his passion for riding. Our quiet meal time becomes an exchange session of our bikes and trips. I am not sure which one of us is to be blamed from distracting us from our focus in the monastery.
Perhaps there is some spiritual benefits and happiness in riding bikes that need to be religiously studied.
How meditation can help with my riding… and everything else ?
How often have you find yourself staring at the roads ahead while riding, assured that your eyes are fully aware of the traffic and road situation. But your mind is actually not in the present and instead pondering at the bad coffee you just had at the Starbucks?
Meditation helps to keep my mind focus, stay clam and be aware of the present and the rational reaction or no reaction to take in a pleasant or unpleasant situation. Adjudge between the doubts and fear of the road ahead or trip I am going to take … especially if riding solo? hmmm…
If you feel the charge to get back at that driver who just overtook you recklessly, if you feel the need to keep up with your speeding mates just so you can fit into the group, or because they told you to. If you ever lose your patience and overtook a trailer truck, or even just a scooter, at a sharp bend.
You will need a time off to disenchant these action and emotions, and 'think' for yourself.

Why Ride ?
Should I say… Riding itself can be a form of meditation.
Best done solo, start just before the sun rises, away from the traffic, away from the pack… far far away from home…
It will feel like… a meditative retreat on wheels…