I am not a qualified teacher on this subject. I am just flirting with catchy phase, as I always do. But I can share with you how I approach my riding trip, solo especially – with a right mental attitude.
In recent past while having a conversation with a fellow biker. He mentioned his admiration to anyone who go on a solo trip. And what stopping him was his fear when one get into a trouble far away from home.
It seem so long ago that I would too fearful of going on a lone trip, with bike or not. Looking back, how did I conditioned myself to eliminate the fear of solo riding or traveling? Apart for my solitudinous personality and with the aid of technology which help solved most of our travel dilemma like location, hotel booking and language translation etc.
With a short pause and my frozen expression I gave him my reply :
"Someone will show up to help you."
I believe he vaguely got the point in that short sentence. I hope it is enough to rid of his fear of a solo trip. And this will be my topic for the day. Not about the joy of riding solo, well we knew that already – the freedom and unscheduled surprises. I just can't describe it in full, this can only be experienced by one him/herself.
I will touch on the topic of positivity, right mental attitude and/or law of attraction. Whichever terms that resonates you. Beside being physically and mechanically prepared for your bike trip. One most important aspect is the right mental attitude.
The past years I was into new philosophy and came across the New Thought philosophy – the Law of Attraction.There are plentiful of sites, renounced author that covers this topics in detail. I will not be the best person to explain it. Just to name a few, here are some author and teacher you can refer to – James Allen, Joseph Murphy, Neville Goddard, Norman Vincent Peale. Though their work mainly touch on the subject of life changing and wealth building, tactfully I can apply it sparsely throughout my riding journey. As mystical and enigmatic as it seems, it works for me – slowly but almost surely. I keep it in a simple and common line – Positive thinking (now everyone can relate!). Again I will not be the best person to go in depth to explain how it works, but at least I can relate some personal case and scenarios. It may help you to keep your positively when the day you have to deal with a situation alone – you will know you would not have to. All you need is to keep your positive attitude and 'someone will just show up to help you'.
In addition to the topic above, here is my other approach when plan go wrong during your tour. We tend to plan our whole trip, route and destinations in detail so as to avoid any misses and delays. But from my personal experience, whether going on a solo or organized trip, Murphy's law applies anyway. There are many things that will be beyond our control. Especially so If you are traveling in a different country, where culture, work ethic and pace are in contrast with yours. Or border checks, road blocks among other circumstance that might cause your plan to change or delay. I have learned to soak in and experience all the misadventure that was package with it. Well, think about it. That is what we are there to experience it in the first place, no ? Leave your corporate efficiency and military precision timing behind, locked in up. Do not ever bring them with you on your travel. In most of my best travel memories that I brought home with me. They did not transpire at the destination that I planed to go however dearly. We will reach our destination, if all goes well, eventually. But the feeling will merely be showing up at the places that you have already knew as expected during your planning and before your arrival. My most memorable and highlight of my trips, good or bad, It all happen during the journey, in between the destinations – the places, the people I met during the delays, break down etc. At least it was my main talking (bragging actually!) point that was not pictured in the travel brochure. Thousands have checked-in before you and thousands more will instagrammed those places right after you. It is the journey that you ride in between that is your story. If I am right, there is a word in the Oxford Motorcycle Dictionary to describe it and it is spelled as A-D-V-E-N-T-U-R-E.
Enough of ranting. These are my misadventures written from and for my memories. This will be a loquacious post and not in chronological order. Read or skip as you please.
Index of my stories :
---
Flat in Chumphon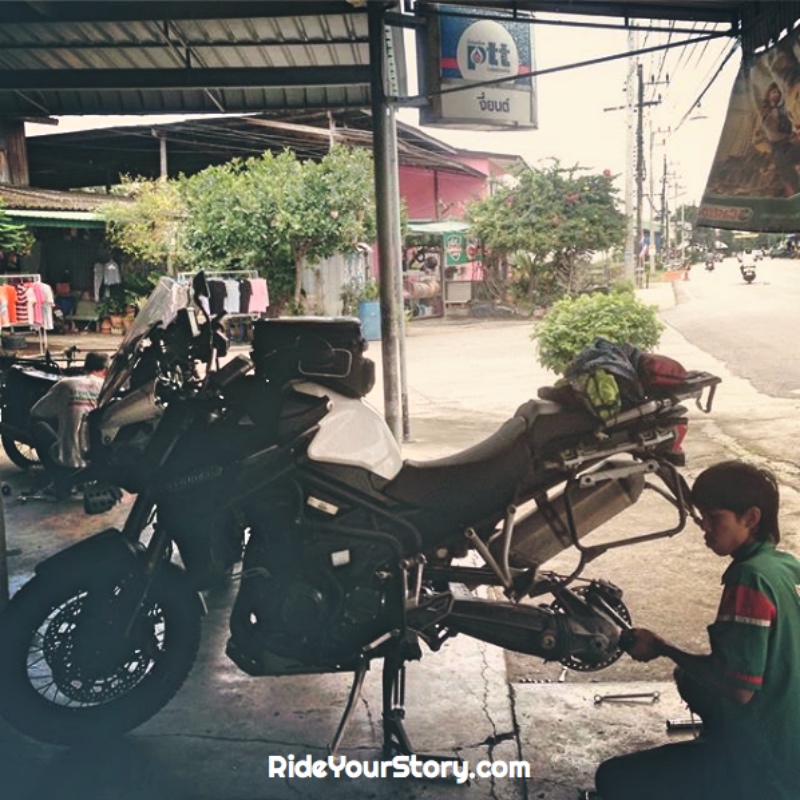 Leaving Chumphon, Thailand on the forth day into my tour of Cambodia and Laos, I felt my bike was really heavy and draggy since yesterday. Without suspecting anything serious, thinking perhaps this was my 'big bike"s first long trip beyond South Thailand. Beside it has a brand new tire, what could go wrong? Instinctively, I recalled the shoddy looking valve stem that the workshop in Singapore installed on my tire. I questioned its quality but was assured it will work and it is the only angled valve stem available. I am still not convinced but hope it will last the trip before I have it replaced. I stopped to check the tire, and sure enough, one of the rear valve stem core is faulty and causing the leak. So I may have been cruising on a flat tire from Chumphon or maybe even from Hatyai – my previous stop the day before? I tried to fix it on the road but to no avail. Turning back to Chumphon will be at least a 70km ride, and my next destination in Prachaup Khiri Khan is still 90km away. As desperate as I should, only on the forth day of my month long trip, I decided turn to my intuition. And it tells me to proceed ahead even with my flat tire. I just feel that I will be able to get some help to fix along the way. And so I did, stopping periodically to check my tyre to make sure it will not rupture without the air support. To my amazement, it perform well and last for another 60km at controlled speed to reached the next town. If you need an approval, here is my recommendation – Heidenau K60 Scout. (At time of writing, my Heidenau K60 Scout lasted at least 25,000km before it was replaced)
My mind was regretful and I could have filled it with anger, but since this will be a trip of my lifetime. And I knew before hand that there will be challenges along the way. This will be the first test of my resilience. Mindfully focusing my mind on the positively – I knew I will get the help I need. And cautiously I proceed ahead on my flat rear tyre.

When I finally reached the nearest populated town – Thap Sakae district. I slowed down and turn into the frontage road (Phetkasem Frontage Road) . My instinct tells me this is where I will get my help. After crawling though the rows of shops and chaotic traffic. I stopped at the first sign of a workshop – amid for car and truck. The busy mechanic sense my need for help from the end of his workshop, promptly approached. My sign language are way more proficient than my Thai, pointing at the faulty and obvious flat tyre. He instantaneously reply in Thai mixed with his own sign language and that trademark Siamese smile – pointing me to a direction behind me and in the opposite direction. Meticulously dashing through the lanes in sub-Bangkok traffic of speeding trucks, I look for the turns where he was pointed to me prior. I hope my bearings was right and pick the right turn among the indistinguishable and uncharacteristic suburban architecture.
Turning in the lane and quietness ensued. Leaving the organized chaos behind and into a rural residential area with partially closed shop houses. And just about I was to rule this is a wrong place. I could only proceed further in and hoping to find a turn back, but there it was, a motorcycle workshop.
This is a small neighbourhood workshop. From the look they mainly service the scooters, mopeds or cubs (coined after the Honda Cubs, also know as Cub-Zai or Cub-Kia in Singapore/Malaysia ( Zai=仔 as pronounced in Cantonese for anything small, petite, cute or affectionate and "Kia" among the Hokkien speaking with the same meaning). As surprised as their look to have a big bike stopping for a service. They doesn't seem sure whether they could fix my simple problem, but they didn't reject and leave me stranded either. Probably knowing that I am a guest from long way and needed their help badly. Only when they started working on my bike and apologized prematurely that it will take a while. I didn't really mind the break after an anxious hours before, just to be here in this relieve moment. I learned that they don't have the right tools to dismantle my tyre. But that didn't stop them, the mechanics scuffle through their pile of scrap metal looking for something they could use. For a moment I was feeling uneasy. Are they going to ply open my wheels with whatever knocking tools they could fuse ? I am definitely not in the right workshop for my type bike! My uptight emotion and deficiency in Thai language didn't help with my narrative of the situation. I don't really have other choice either. I decided to excuse myself to buy a drink in any stall I can find nearby, so I will not have to witness the brutal dismemberment of my bike.
On my uneasy return to the operation room, only then I realized they are just making a new tool out of a nut to unscrew the wheel from the frame, as they didn't have the right equipment. They knew what they are doing and it was ingenious. I was relieved, not only for their effort but even more for not abandoning and leaving me stranded. Next, the mechanics brought my wheel in his motorcycle to an unknown location, which I later explained that he was going to a car workshop. As they didn't have the angled valve required by my tyre and the tyre changing machine to install it. So they have to transport it there and get the job done. I was amazed and applauded they effort to go all the way to get me back on the road.
Stay positive! and you will get the help you need.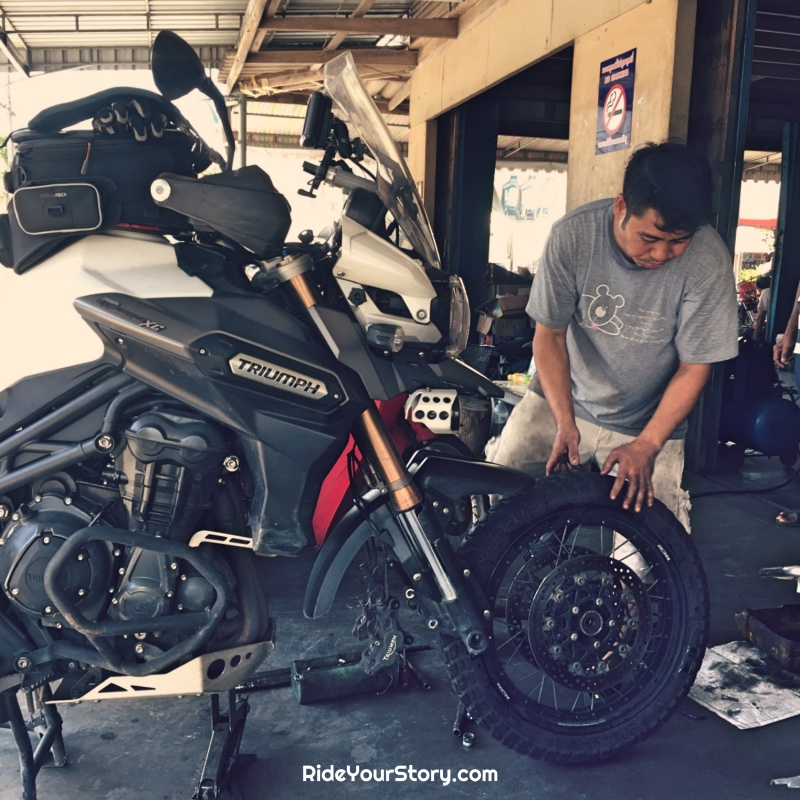 A year later and on my trip to Mae Hong Son. I feel the need to dropped by their workshop, just to give them a small business as my appreciation for their previous help. The same valve install by my workshop in Singapore was giving the same problem anyway – the front tire. If you ever need any help with your bike while passing by Thap Sakae District in Prachuap Khiri Khan, Thailand. This is the workshop (Google Map link)
---
Stranded in Chumphon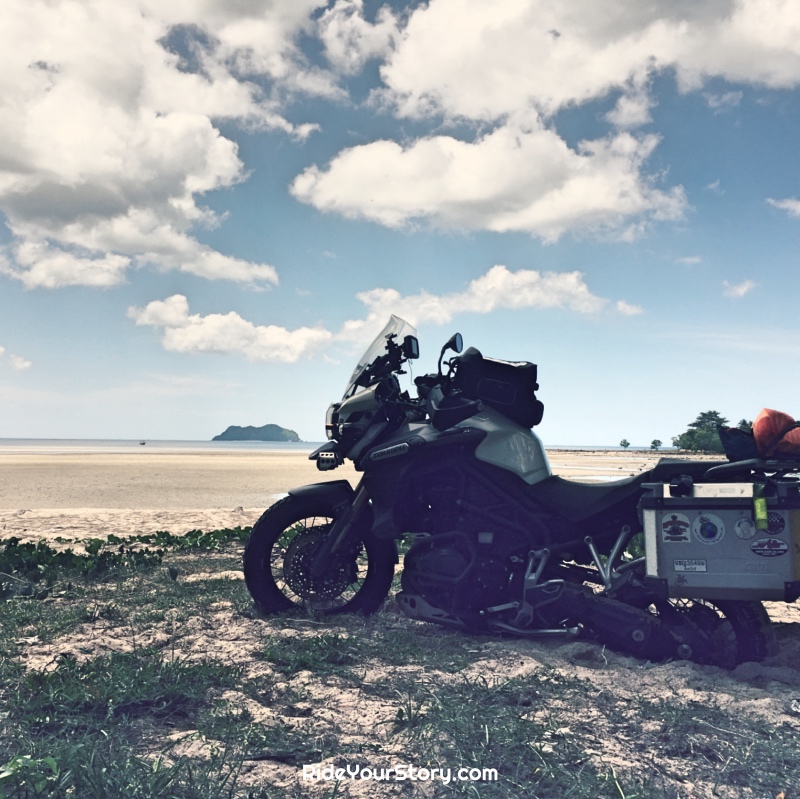 Chumphon was one of my favorite stop along/towards the 'boring narrow strip of West Thailand' – though Chumphon correctly is geographically located in South Thailand. With beautiful resort and quiet beach sans invasive group tourist. This is where I got into trouble again – our love-hate relationship.
Leaving Thung Wua Laen Beach (Hat Thung Wua Laen หาดทุ่งวัวแล่น) and Nana Beach Resort where I stayed – it is a biker friendly hotel!. While riding along a sea view road of Route 4004, bordering Chumphon Airport. A glance towards the Gulf of Thailand, I saw seamless blend of the horizon and a outstretched beach. This is a good place for my instant coffee break, before my next stay in Prachaip Khiri Khan. Just the way I like to do a ride, shorter distance coverage and away from the expressway. Which gives you time to be an explorer and indulging in the journey.
Perhaps intoxicated by my morning savor. I have the sudden urge to ride along the beach. A walk on the beach assured than the soil are firm and not loose or sandy. Evidence of greens making their mark sparsely throughout and engulfing the land proof than the green earth are slowly taking over. It should be a breeze to ride, just as I have done it before. And so I thought…

Even with my watchful maneuver planting my wheels only on the turf side and advancing less than 10 meters from my starting spot, my heavy weight dumbo sunk in. While this is not the first time I get ourselves stuck in this similar situation, and those times I was just as alone. But this is surely the first to get us immobile in a sand. I had enough experience to get ourselves out, and so I thought again…
Underneath those turf, where my tire could not grip are just sands. Why am I even surprised? The more I throttle, the deeper I sank. On the bright side, I did not have to drop my bike this time. And I could not lift it up either. There was no one around to help. That is the risk I take for riding in unpopular and remote route. Still I am not ready to exchange my stupidity to join the mainstream. I knew positively We will get ourselves out in one way or another, sooner or later, slowly but surely.
This bike is really heavy. 3/4 of my rear wheel are already dug deep into the sand. An hour of attempting to recover it did not move a foot from its spot. I tried all methods, and all scavenges I can find on the beach – planks, slippers, driftwood. Unloading my bags and panniers did not help and I am running our of drinking water myself. But I kept reminding myself it was in this hard time that I should stay positive. So i mumbled "I will get out of this situation, and someone will show up to help me." An hour and half spend, and I did not seem to make much progress. And it was way passed my lunch hour and I am exhausted. I took another periodical rest to gather my strength to try again. And it was at this time, I heard someone shouting towards me. I turned around and there she was, an elder Thai lady in her cubs. She came forward and rant in her language I could not understand. But she understood my plight and tried to help pushing the bike, I knew it is to not avail my bike was simply too heavy for both of us. I am sure she said it too in her language. She utter more even though I regretfully could not reply and she left hurriedly in her bike. I assume she have urgent errand to attend to, but I appreciate her effort very much.
I am back alone. With me and my bike with my relentless stupidity. Still no giving up even though I don't have any other option. I could only try what I already did, in dwindling strength. After about 15 minutes have passed, I heard the melodic sound of motorcycle engine and exhaust. There she was! I saw the same lady but trailing behind her was another 2 bikes of who seems like her family members. My help have arrived! With simple greeting gesture, they went straight to work and lifted my bike out of the pit and onto the lawn. I am so grateful to these family. We have a short chat in simple English as they are curious about my trip. I thank the family repeatedly but was seemingly shoved to leave by the elder lady. It was well intended, as she gestured with her hands, like a caring mother does, pointing to her wrist in a imaginable watch and scooping her hand into her mouth to remind me to take my lunch, and it is way passed lunch time. I could not stay any longer aas she insisted with her gesture for me to leave now. And she was right, it was already 3pm by then and I have only that much time left to reach my next destination before sundown.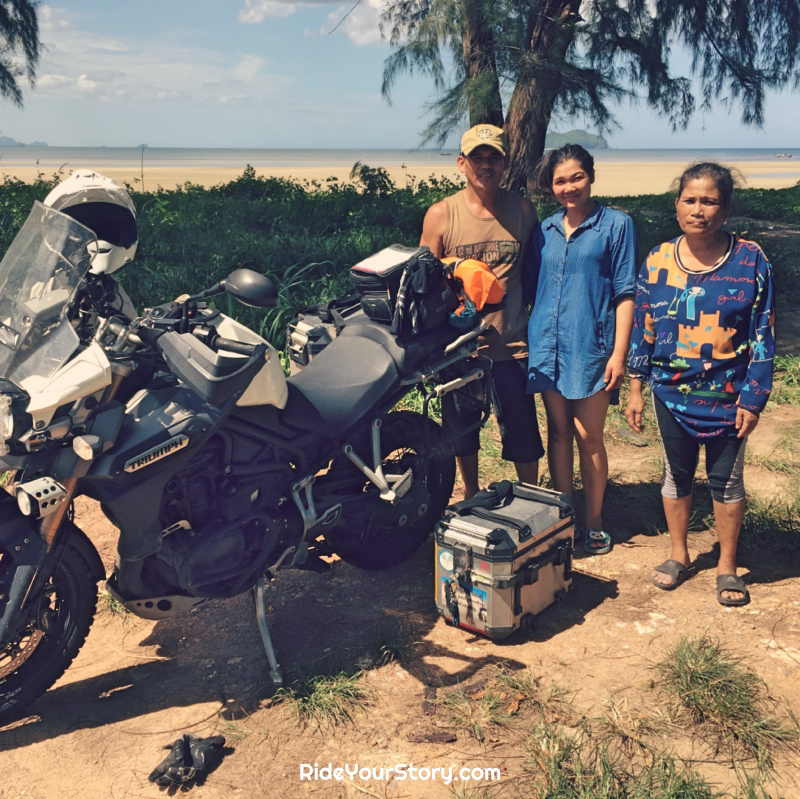 Apart from a single traffic fine extortion on the outskirt of Bangkok and negligible insurance due date cheats at the border. My experience with people in Thailand and hospitality are mainly positive and it makes Thailand a joyful and safe to ride.
---
Lost in Phnum Samkos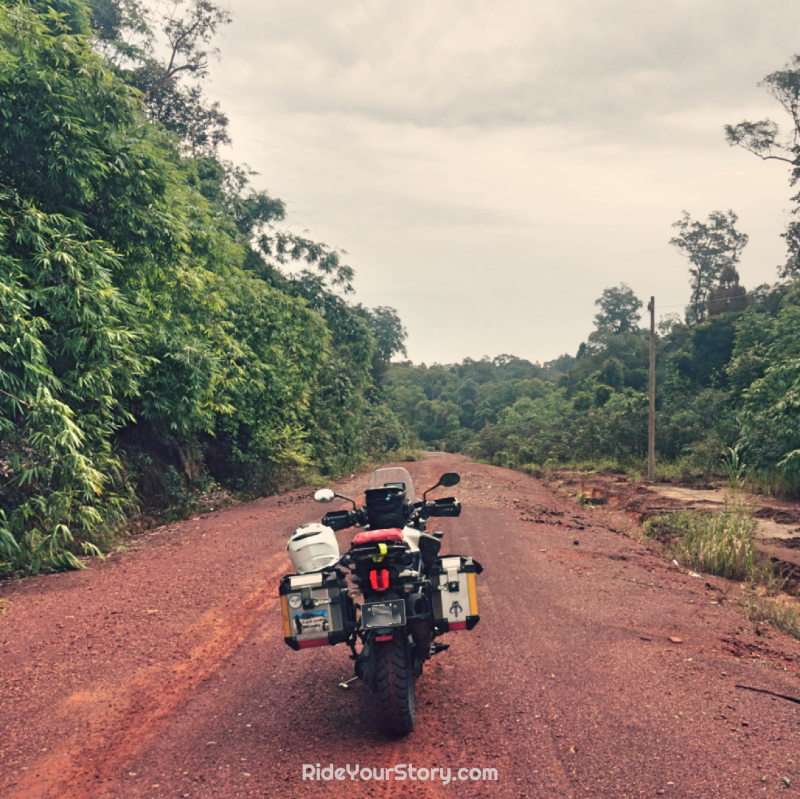 Just second day into Cambodia, entering through the Cham Yeam border. I will be saving the recommended Sihanoukville for next time (maybe even not, now that it is overly commercialized with casinos). Instead I will be heading through the Phnum Samkoh Wildlife Sanctuary and into Battambang. At least that was the original plan. What I am going to share here is not about the trip – which you can read in my earlier post Lonely Ride in the Wild. There is a moment where I am lost, at least I was going to be. In the sparsely inhabited wilderness, a sanctuary populated by wild tigers and elephants as warned by the locals in Koh Kong. Where my mental strength are put to the test.
There was a near completion construction of a dam (Stung Atay Hydropower Dam) at time of my ride and the river and landscape was at the stage of being flooded. My maps was not updated and the roads that I am suppose to pass are sunken with only the lamp posts protruding out of the surface water indicating where the road was to be. From here onward, at least until I passed the dam construction area and deforested zone. I can only turn back or relied on my instinct. I was told prior, if I ever get lost. just follow the overhead electrical cable. It should lead me to the nearest village. It makes sense and exactly that is what I did, though part of these electrical cables are still attached to the sunken lamp post. I found a construction by pass and makeshift bridge across. Though the areas are quiet and deserted, but the bridge are a relief indication of construction workers are not far away, even if they are nobody around today. I am still unsure how the road ahead might change, but I kept reminding myself not to worry. I am sure someone will just show up and help me when I need.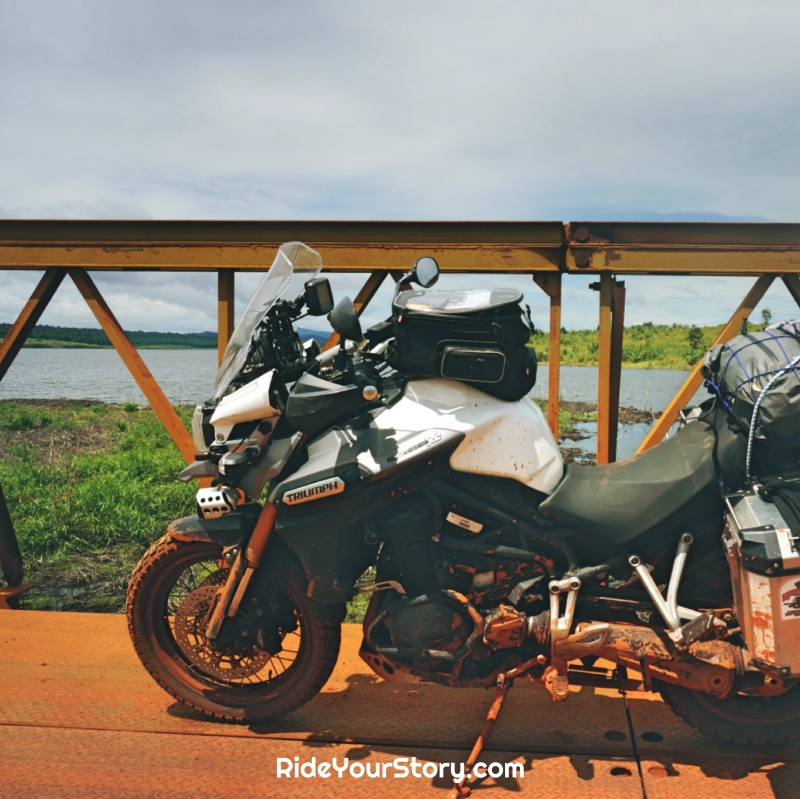 It was all good by following the electrical cable, until I reached a junction where the road are split and so are the cables. Both roads are unpaved and muddy, and I cannot really tell which is the new or old roads. I alight and trying to figure out my option, with no matching map for the next few kilometers. Any choice that I make that does not lead me to the Elephant Circle in Phumi Prâmaôy, could be hours of day time lost just to turn back – if I am not stranded or lost. I wish I had someone to ask for direction, but where would anyone live in this part of the sanctuary, a more amicable name for a place that looks like a inhospitable jungle for upright walking mammals like me. Keeping myself positive, knowing that I am really not that far away from the nearest civilization. I scout around look for clues that would hint me to the correct direction, or patiently wait for a rarely passing vehicle. I knew I will be able to get an answer sooner, but definitely no later than the sunset.
My gut feeling tells me to take the path on the right. it is drier and there are more electrical cables diverting in. But it will be a challenge as it is going up hill, but at least maybe I can have a clear view from the top if I am right. I went back to my bike, mount up and start my ignition. Just when was about to roll up, I notice someone was waving from my left. I turn around and saw a couple and a man seem like a hunter, sitting in a rest hut. Why didn't I notice them earlier ? Were they there all along ? I stop my bike and return them a "Hello!" while waving my hand and walking towards them. They were mumbling at each other and at me. While I am not sure whether they are asking where I am heading or warning me about where I am heading. They could be speaking in their native dialect and not Cambodian, which both I would not be able understand anyway,. So I could only mumble "Battambang?" (my next destination) and pointing towards a general direction. "Oh! Battambang!" There were all smiles. Now we have a word that is mutually understood. All of them point to the left muddy route and one gentleman gestured me to avoid the right route. I can understand from his enthusiastic sign language, telling me both route leads to Battambang, but the right route, is going up the mountain and connect to the same road ahead. But it will get very narrow and dangerous. Dropping his body sideways to indicate I may even fall down the cliff.
With their advice. I proceed in the right, or rather left direction. Though I did not managed to reach Battambang that day. A few more incidents occurred along way – I lost of my iphone and my photos along with it and my physical and mental exhaustion, lost of hours and sun is setting. This is definitely one of my toughest ride, mainly due to the over weight beast. This will be listed as one of my unfinished business. I may be back again to compete it one day.
---
Bored in Chiangmai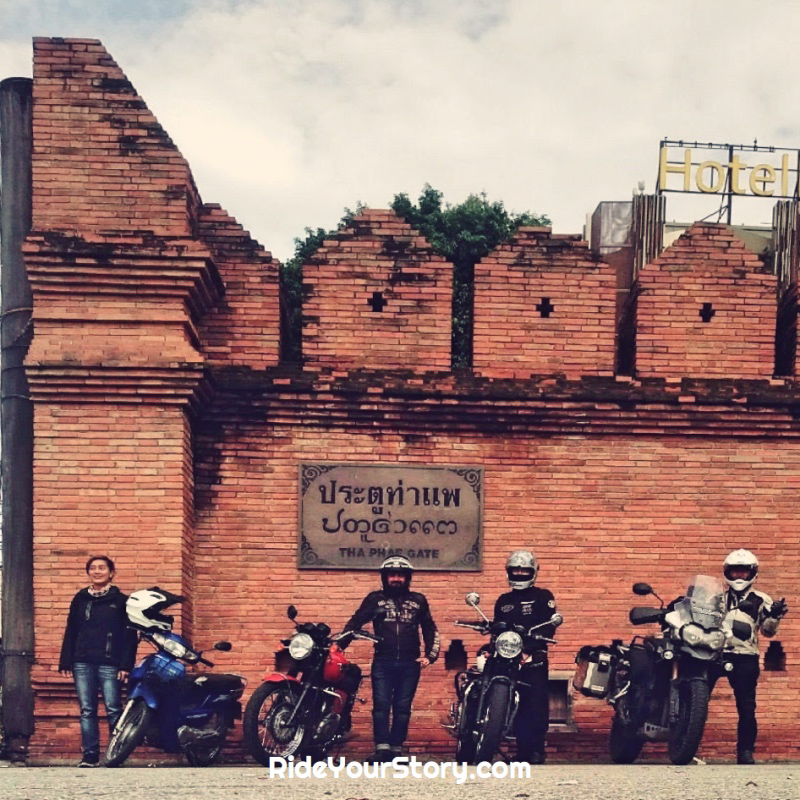 I have been applying my positivity effectively to manifest assistance in dire straits situation. But this time I want to manifest something different. Sensibly I am still doubtful about this method, whether this really work or just pure coincidence. Let test if it is as effective if I just make it fun.
On the sixth day into my trip towards Mae Hong Son. I have not met any other biker or group so far. I am bored! As much as I enjoy solidarity ride, its nice to bump into someone of the same interest and exchange our stories, or to brag mine. My choice to ride on a non-holiday season lower my chance further to meet one. Leaving Kamphaeng Phet, after a early morning visit to Kamphaeng Phet Historical Park, I proceed towards Lampang. I did not take the highway. as I usually prefer not to. Taking Route 101 towards Sukhothai and continue to rural route 1177 towards Lampang. As I expected it will be an uneventful ride, no pee-determined stop was planned. Today will be a mindless easy ride to my rest stop. Maybe I can spice it up for a day. And so i tried – "I will meet a fellow biker or group, have a nice chat and make new friends."
Lampung – I reached my hotel and I did not meet anyone. I had my dinner in a mall next to my hotel, and that was my ride for today. The next day I will be heading towards Pai, by passing Chiang Mai, and to stay in Pai for 2 nights prior to my 9 days meditation retreat in Wat Pa Tam Hua in Mae Hong Son. So it will be my last chance to cross path with any biker for the next 11 days at least. Being a Mecca for bikers, there will be no shortage of riders in Mae Hong Son, even so in Chiang Mai itself. But I will be more delighted to meet one in a peculiar location.
I could take a direct highway route towards Chiang Mai and onwards to Pai. But curiosity saves me and I decided to blindly take route 1157. Well it turn out to be a good choice. It is a rural road will less traffic, though the uphill towards Chae Son National Park could be daunting due to the very steep slope and blind corners. I reached a hill station of sort right at the top. The narrow traffic became congested. I was tempted to stop for a coffee at the various shop, but finding a flat ground to park my bike was difficult within the narrow and steep road. I note it down and this will be my place to visit in my next trip. Feeling disappointed I proceed ahead and it was heading down towards the plains. But I am not giving up and crave for my coffee chill break before I head back to the chaotic world in Chiang Mai.
Cruising along the plains and sparsely aligned rural houses. I thought I have missed my chance to chill. But there it was, a small house right beside the roads surrounded by paddy fields. They seem to be a cafe on the root top. There wasn't a prominent sign, but somehow I have a feeling I should stop to take a look. I turn back, maneuvering a u-turn on this narrow lane. It is not that bad, with no other guest around, just as I like it. (This place is Bee & Rose Cafe | Google Map ). Just when about I was to take my seat, I heard a familiar engine roar down the road. Oh well! I just missed it! I may not manifested a riding friend, but at least I get to have a nice coffee break and a sandwich to add. The engine throttle down, I can hear it is making a u-turn and perhaps he is making his way back to the direction of Chiang Mai. But the sound came right into the parking lot, where my bike was parked. I can't see him from where I sat, but definitely he would have seen my bike. And there he was, my new rider friend to be, greeting me like we have knew each other already. This is type of bond you give and receive only in motorcycle community. And the best part, we are riding the same make, a Triumph motorcycle.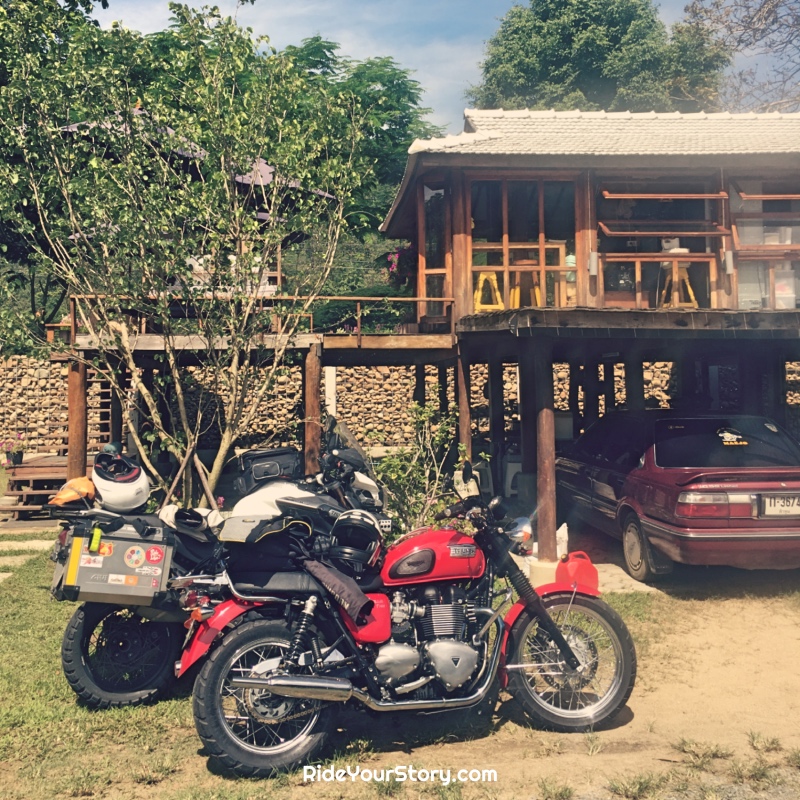 So my manifestation came slowly, but surely. Not only did I get to chill with a fellow rider. I had a good breakfast among the serenity of paddy field and an invitation to ride with his friends after my meditation retreat. He even offered me a complimentary stay in the hotel he managed in Chiang Mai. A very beautifully designed boutique hotel – Art Mai Gallery Nimman Hotel. And I was introduced to his riding group – Breakfast Biker Club Chiang Mai, who took me for a tour in their beautiful city and discovering obscure coffee shop in the outskirt.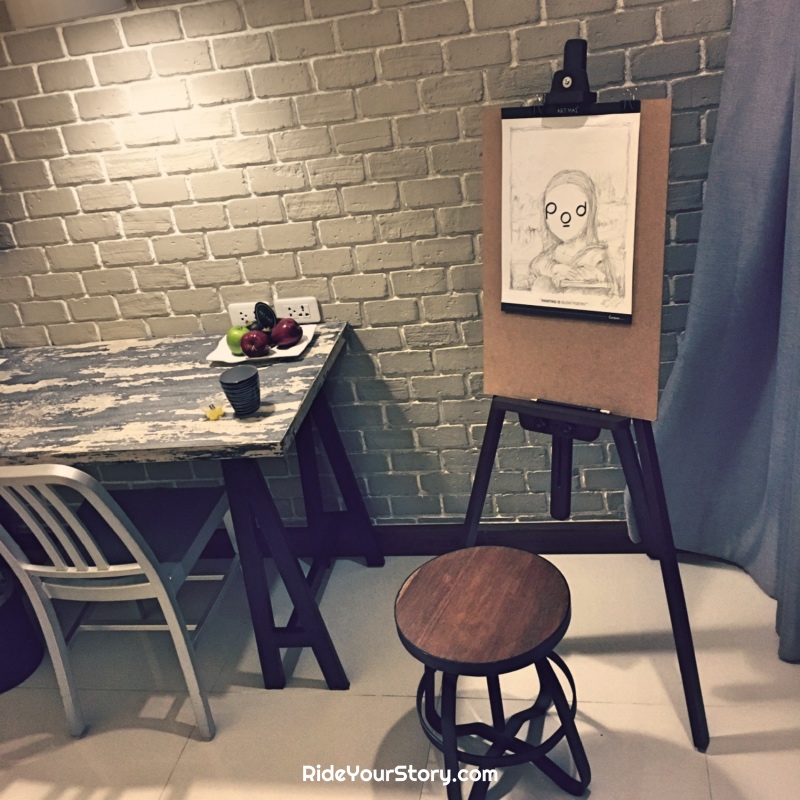 The next time we met was in Johore Bahru when he made his way down south with his other riding buddies. And surely in the near future I will be heading up north. It is in my plan. Oh well! where else can we ride to but northwards.
---
Brakeless in Dharamshala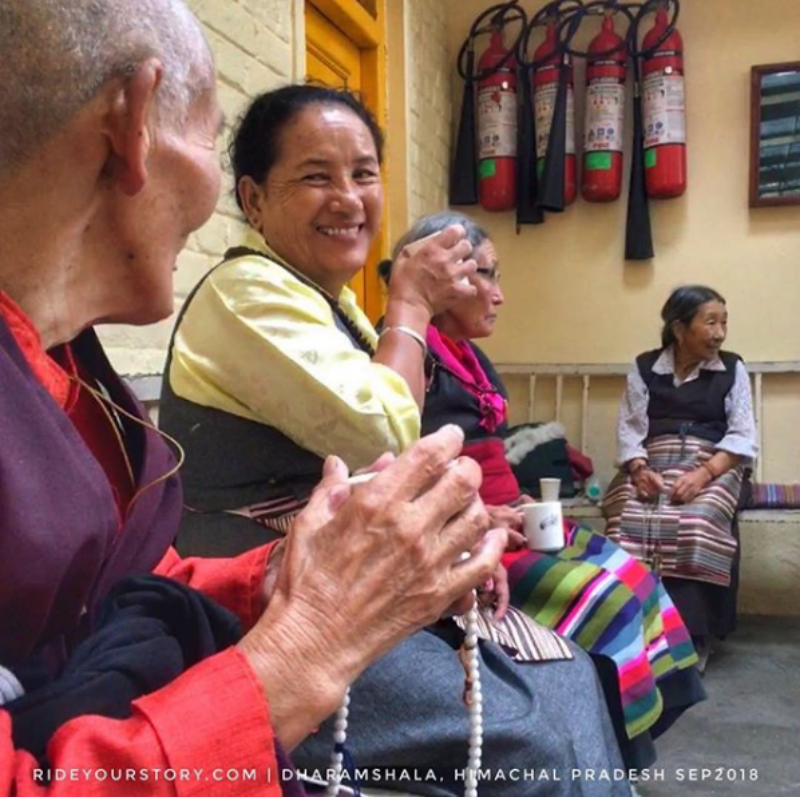 I just completed my tour to Pangi Valley, fulfilling my dream to be there and ride for myself the spine-chilling Kishtwar – Killar road. With compliments from the tour company – Ride of My Life. I was given a Royal Enfield Himalayan to ride for a week prior to my next ride to Spiti Valley. My original plan was to ride down to the plains (Hoshiapur – Amritsar – Ludhiana – Chandigarh – Shimla – Mandi – Manali [Just noting it here for my future reference, an unfinished business]). But a very bad fall in the rough road in Killar make me shelved my plan. Riding with a suspected broken ribs on bumpy roads is one painful experience, I remember I could only riding standing for the next few days just to minimize the agonizing sensation caused by the vibrations. The next two days I was literally pissing blood which did not help to ease my contrary thoughts. Gladly I did recovered gradually and the cause of the blood in urine was likely a UTI (Urinary Tract Infection), not from an internal injury. Nontheless, my plan was still shelved as I do not want to aggravate the pain before my next tour in Spiti. I decided to rest for a few days in Dharamshala first without any other plan ahead.
Dharamshala, formerly known as Bhagsu, was the second capital of Himachal Pradesh, It is more popularly known for the headquarters of the Tibetan government in exile. And also where the revered Dalai Lama reside. Dalai Lama was one of the prominent leader that I always dream to meet in the flesh. Meeting people of such stature are almost seemingly impossible. The least I could do is to visit the place where he reside and deliver his lectures to his followers – Namgyal Monastery. The monastery was modest and basic for a leader like him. A far cry from his Potala Place in Lhasa and other Buddhist monastery I have visited in Bhutan and Tibet. In essence, this makes him a more down-to-earth and accessible to the layperson.
There seem to be a lecture held there when I visited in the late after. I found out Dalai Lama himself is here in town for few days, delivering lectures to groups from South-East Asia and East Asia. No wonder the whole street was mingled with familiar sound of Thai, Taiwanese, Mandarin, Indonesian, Japanese, Korean, Cantonese, Mandarin, Vietnamese, Singlish etc. A check on the notice board indicated the registration to his lectures was closed months ago. I was so close yet so far! I did not want to give up and try my luck at their Branch Security Office to obtain a permit, but the office was unattended. I will still be in Dharmashala tomorrow and so I will try my luck to get in before his talk.
The next morning, I had a quick breakfast and head straight to the monastery. Dharamshala was situated on a hill. Walking from one street to another is practically climbing up and down slopes. The street was lined with well wishers, monk and nuns from all schools and countries – unmistakably from the colors of their robes. Jam with the taxi and occasionally travelers on various Royal Enfield makes. Most of them were heading into one direction. Almost everyone was carry an identity on their neck. The chances of me sneaking in is very slim, but I just go with the flow. Security was very tight today, no mobiles phones or electronics of any sort, except for a radio I saw many was carrying with them, which I later learned was for the broadcast of Dalai Lama's lectures translated in other languages. So far no security stop me yet, until I reached the entrance to the hall. I thought this is it. Instead the mild mannered Tibetan security guided me to another side entrance, where I can apply for a permit on the spot. The registration took longer than expected. Coming from a rushy paced urban dwelling beings, learning to be patience is the first lesson here. After registration, we were directed to another security check and entrance right at the back on the outside of the main hall. Fair enough, since we did not register prior in advance, we don't get the best seat but just a large video screening from outside the monastery. Without the radio I could not understand a word, but to sit in among his followers from all over the world. One can feel how he revered he was by the Tibetans sitting among us. It was an hour or more of talk before Dalai Lama himself was to retreat to his residence before his next lecture. I guess this is it, my first encounter with a respected personality was a video image of him from about 50 meters. But little did I realize that this back of the line, was actually the entrance of his residence, directly facing the prayer hall. Slowly he made his way from the hall, returning his greetings to everyone along the way and there he was, right in front of me was Dalai Lama.
Dreams, goals, ambition, desire or however you want to call it do work in a unexpected, slow and even painful ways. You can call it mysterious if that word align better with you. If I had made a trip to India in the previous year as planned, or if I didn't had a bad fall while in Pangi Valley, and if I wasn't offered the bike to ride from the schedule stop near Dharamshala. Likely I would not have a better chance to meet him in person.
However that was not my main topic for this post, but it was applicable enough to be slotted in. The main story for this chapter was what happen after I decide to leave Dharmashala. Randomly picking up location stay for the next day, and I pick Bhagsu Nag, which is just 2.5km from where I stay in Dharamshala. Also it is within the vicinity of Dharamkot where I want to explore. While Dharamshala and McLeod Ganj are famous for anything Tibetan Buddhism. Dharamkot and Bhagsu Nag are for hippie, yoga, hiking and .. ehem!.. weeds. These places will be a topic for another day, including my forgettable hotel room that looks like a haunted crime scene.. I just can't wait for the day light so I can leave as soon as possible. What could be worst? My Royal Enfield Himalayan rear brake fluid leaked and it is totally emptied.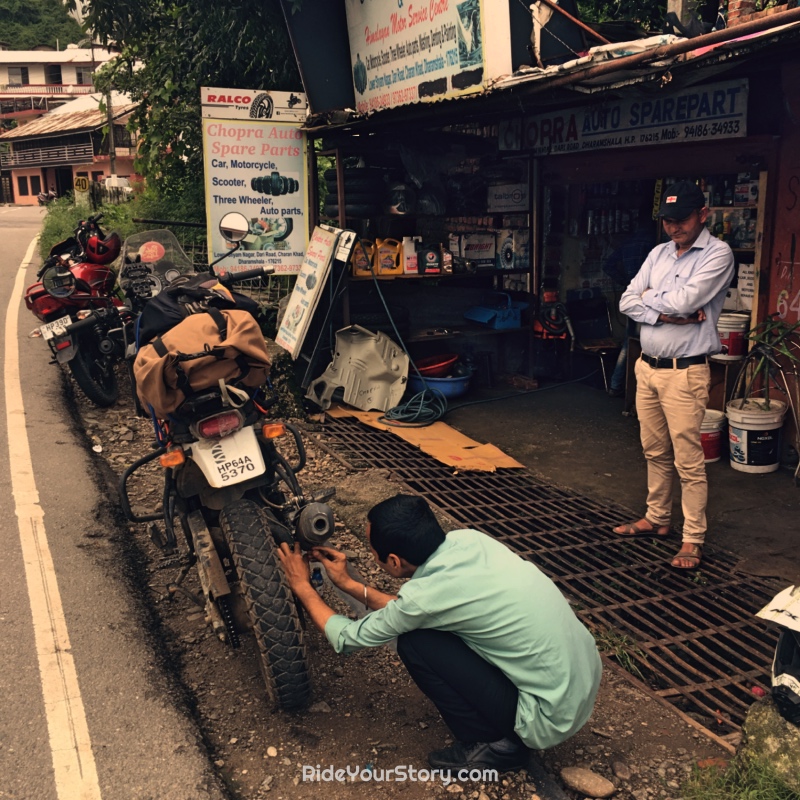 My next choice of stay is in Naddi, just 6.5km away. But I am still 2 more days ride away (I prefer not to do long ride) back to Manali to start my next tour. Since I checked out early from that crime scene room. I decide to ride down the hill to the Royal Enfield workshop that I went to before my stay in McLeod Ganj, where I bought some accessories for my Royal Enfield Classic 350 back home. With only a working front brakes, I rode slow and upon reaching the town in the hill below. Unfortunately it was closed for the weekend. Without a choice I have to carefully ride back uphill back and onwards to Naddi where I will stay for one night. I will try my luck the next day.
On a side note. The place where I stayed in Naddi – Hotel Udechee Hut, was in stark contrast to McLeod Ganj and Dharamkot. With rules of no music and loud talking . This is quietness and wellness I need for my recovery of my body and stress generated by the faults of my bike. It is really a good place to recharge and meditate.
With the pain from the fall removed and mental strength regained. I rode back downhill to the town to try my luck. I keep telling myself positively I will get my brake fixed and safely back to Manali. I stumble upon a small general automobile shop. I could only use sign language and have no difficulty to explain the issue to the shopkeeper. The only concern I have, similarly to my experience in Thailand, is he doesn't have the spare part required – brake fluid pipe for my newer Royal Enfield – Himalayan. I am very sure the common Bullet (as it is affectionately known) will be a easy fix anywhere in India and Nepal. But just like his Thai counterpart, he did not gave up on me and go all his ways to fix my problem. Super glue, mixed with sand from the front of his shop, to sewing thread from his home, mixed with his saliva. All his bag of tricks to help me get back on the road again. While I may still have doubts whether his method will work, but hopefully it will last long enough get me back to Manali. He tried various methods, failed and persisted. Eventually about an hour and half later, the brake is, at least working. With smile from both side, we part our ways and I will head to Bir Billing to stay for the night. It is just another randomly picked location as it was in between Manali, an easy half day ride away from there.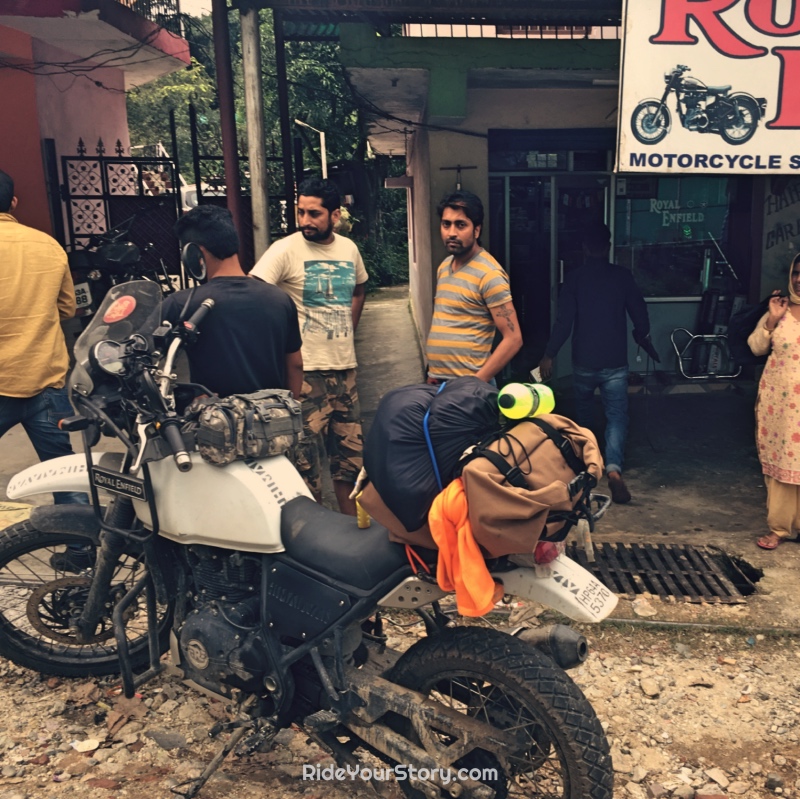 As much as I applauded the shopkeeper's effort, and I still do and appreciate his help nonetheless. My renewed brake last about an hour of ride, and I not even halfway to Bir. But with my enhanced confidence in the Indian mechanic's helpfulness. I knew I will have assistance along the way. It was not long before I found it in the town of Palampur. A huge sign of a Royal Enfield logo is calling me from the road side. I saw the word 'spare parts' and I knew this will be the place. But no, there was no parts for Himalayan, but plenty for Bullet. But as eager as the last shopkeeper. He access my problem and straight to work. This time armed with a epoxy putty, super glue and of course the fine sands from the front of his shop. While he is busy, I will keep myself the same by chilling at the drink shop next door. Being a obvious stranger stranded in a small town. It did not take long to make new friends, and it is even easier with motorcycle as our common language. And it is here I was shown a real classic Royal Enfield with the brake and gearbox on the opposite.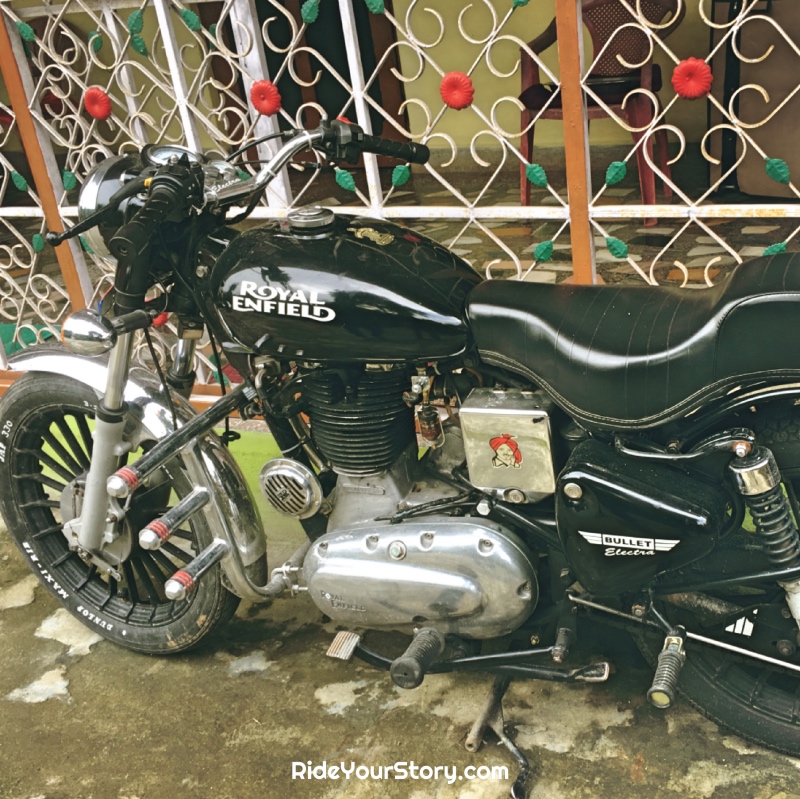 The mechanic tried his best of what he had, and the sun will set when I reach Bir. I will not ask for more. My encounter and imperative interaction with the locals today will are the highlights of the trip of the day. With compliments from an unlikely ice breaker – a leaking brake fluid pipe.
As expected the second repair did not last as long. To be fair, the mechanic was honest enough to tell me he cannot fix it permanently and advise me to get it replaced at the next availability. But I did reached my destination eventually the day after, gleefully, with more stories in between yet to be told.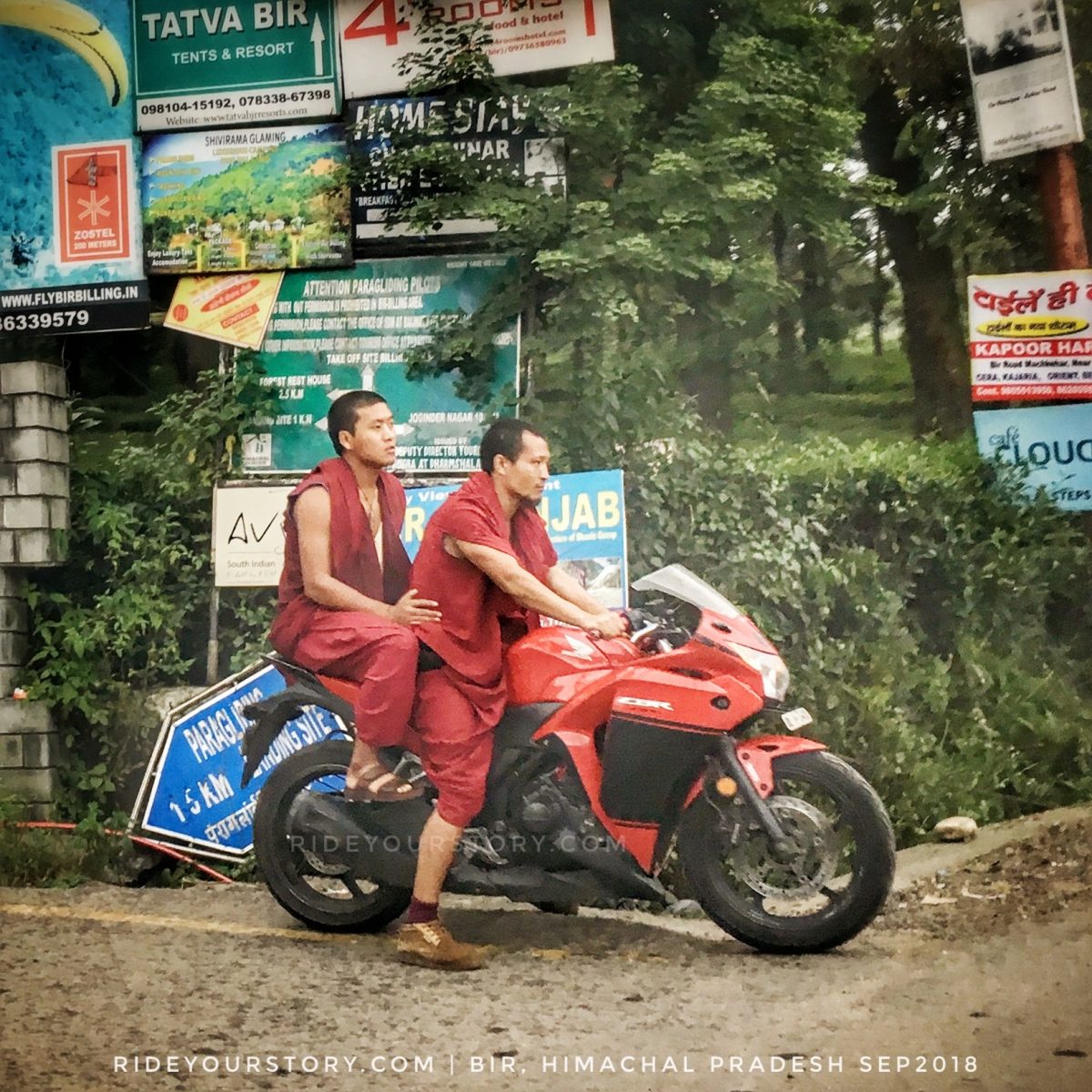 ---
Mapless in Linggiu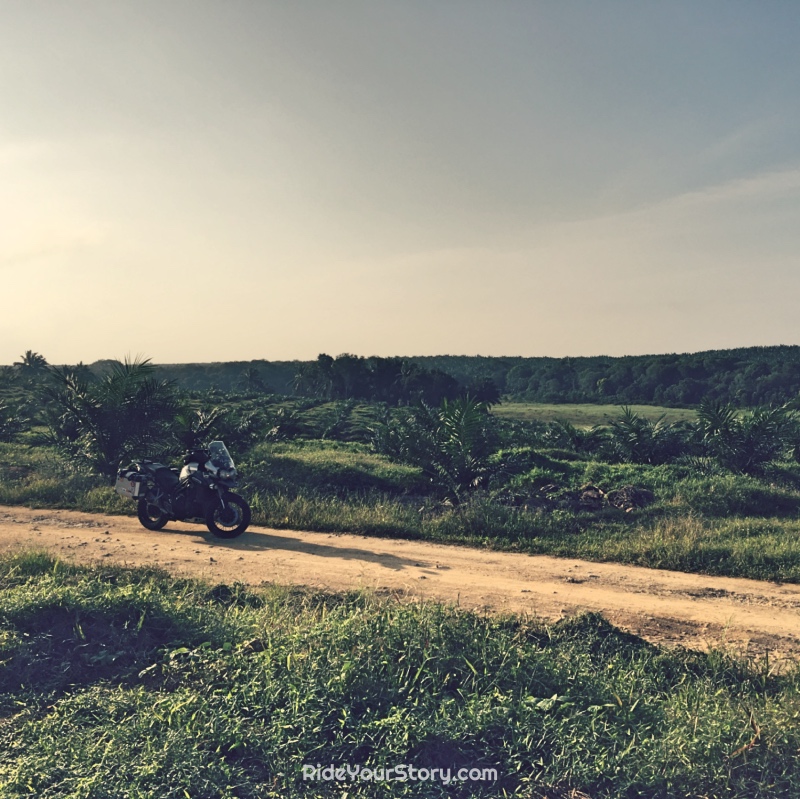 Singapore, being situated on the most southern end of the Asiatic and Europa continents. There is only one direction you can ride and that is north. Sadly, for overlander at least, we only have one neighbor – West Malaysia. While they have good roads and cheaper patrol for a good weekend or day ride. Food hunting, supper run, dirt biking are the popular outings among bikers in Singapore and their southern neighbor state of Johor. The limited 'adventure you can ride is within the vast plantation. After a early morning ride to the Sungai Layang Dam. The next point in my list is the Linggiu Reservoir – part of Singapore's water supply source.
I found my intended route to the reservoir, but a likely newly erected guarded entrance stop my entry. But I have a contingency plan, thanks to Google Map, there is a through road to the reservoir within the surrounding plantation. As I have pinpointed on the map, there is a small road leading into the plantation and towards the reservoir, but there was a small hut with a guard. Unlike the guard house of the main entrance, this looks make shift and perhaps was a sentry for the construction site within the plantation, judging from a truck that is leaving. I will try my luck to ask for permission to go in. Fortunately the guard was preoccupied with the truck drivers. Agitated by my interruption and perturbedly he wave me off. I took it as a yes and sneak into the plantation.
There was a construction going on in the area. There are at a land clearing phase and many trucks and machinery are moving around. The route that I I drawn no long exist or was diverted. I see this as an opportunity to explore the interior, instead of turning back. Since the workers and their supervisor did not seem to stop me, other than giving a curious stare. Ignoring their concerns I advance to explore deeper and expectantly to find a way to the reservoir.
But in here, my GPS maps are blank and showing no road. I was within the perimeter but there are no clear path to the bank of the reservoir. However I did enjoy circling the plantation on my heavy beast, looking for path to get closer until I realize I am lost inside a rubber tree plantation. I was not afraid or panicking, but still having fun trying to find my way out. I am just worried my fuel will run out doing so, and by the miles and hours checking into the same tree. I knew I should be worried but again staying optimistic I will find the exit, if not maybe someone will be here to guide me. Sure enough, after circling for two more rounds, I bump into a elderly couple wandering in the forest. From their dressing I guess they are local villagers , and they look like they are there to gather herbs. They were very friendly and even more surprised to find me so deep away from the main roads. I asked for direction and they promptly guide me with their swaying arm, making the right turn with a big tree as indication and I will find a truck road that will lead me out. With my limited proficiency in Malay language, we had a short conversation mostly answering what am I doing here and where am I going. With my sincere thank we part our way and I make my way out this time. Linggiu Reservoir can wait for now.
---
Bridgeless in Kelantan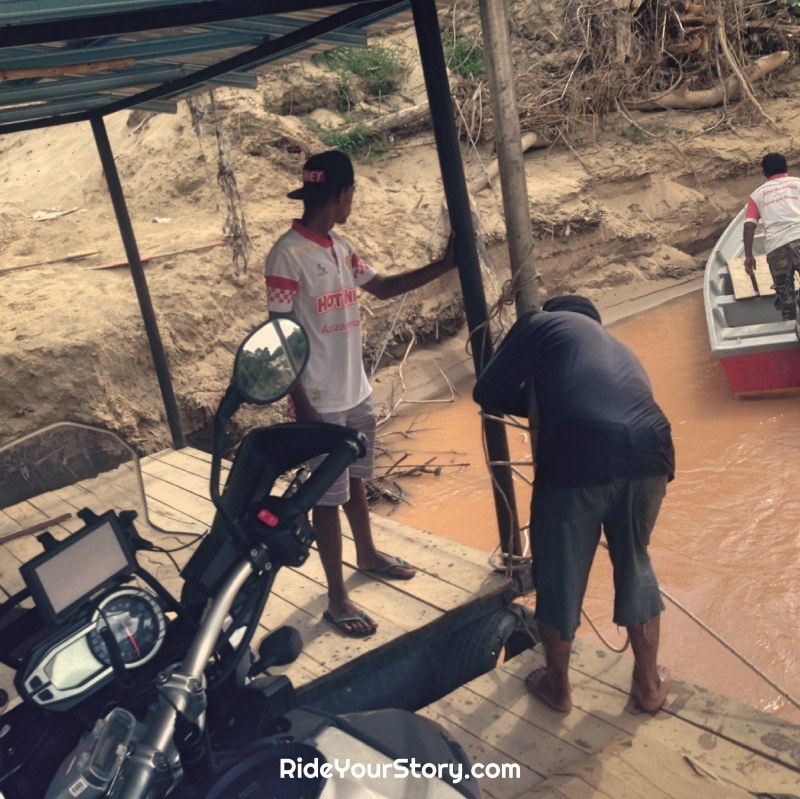 This encounter was covered in detail in my earlier post. I was still not familiar with the term Law of Attraction then. But without being aware I was already applying it sub-consciously throughout my rides and in other area of my life. In this story, I was heading to my stay for the night in Gua Musang. That is right, yet another randomly picked location as it was not too far to ride from Hatyai, Thailand. But what I did not know was the bridge was destroyed by a huge flood just months before. My other choice would be to turn back and make a long u-turn, but that will take me at least three to four hours and it will be nightfall before I reached my destination, which is just an hour ride more. Keeping my mind positive and adventurous at the same time. I began to look for a alternative route or temporary bridge at least. Or any person who can guide me across. When someone who show up to help me, a boy who directed me to a local opportunistic and enterprising villagers, who ferry passengers across the river. With their help and ingenuity I made it across too. The full version of my memory is written here – A Bridge No More . Kelantan.
The point of including this episode in this post was to learn to take everything encounter in your stride. There are incidents that will be beyond our control. But if we learn to accept it, repel and adapt with a crunch solution. You may find yourself participating in a more captivating story than the adventure that you originally plan.
Have fun and ride your own story!