Ending our ride of a segment of the Killar – Kishtwar cliffhanger road, we are heading back to the plains. We will be making a stop for the night at Bairagarh before heading to Dalhousie. To reach there we will need to ride over Sach Pass (साच पास). The yet another road that is reputed to be the 'most dangerous road in the world'. It will be a bumpy ride for sure, but is it as 'dangerous' as the cliffhanger road.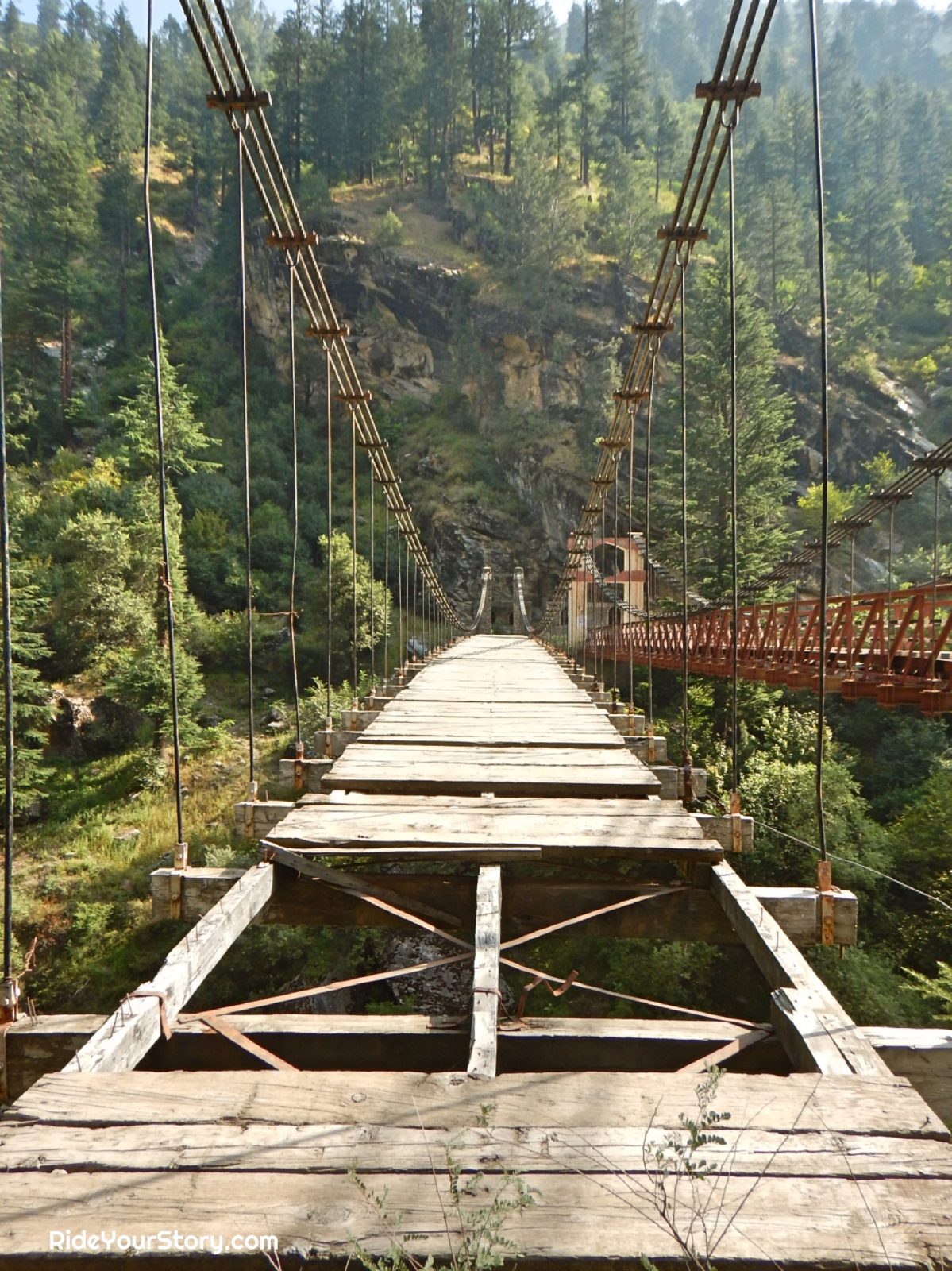 Taking the SH26 (State Highway) towards the same direction towards Kishtwar. With a short ride from Killar, one will take a turn into unmarked SH37 which will be the beginning of our descend down towards the plain. Leaving Pangi Valley behind and we will find out does the road to Sach Pass live up to its reputation. Hopefully with me without a scratch.
"Do not dare not to dare."

C.S. Lewis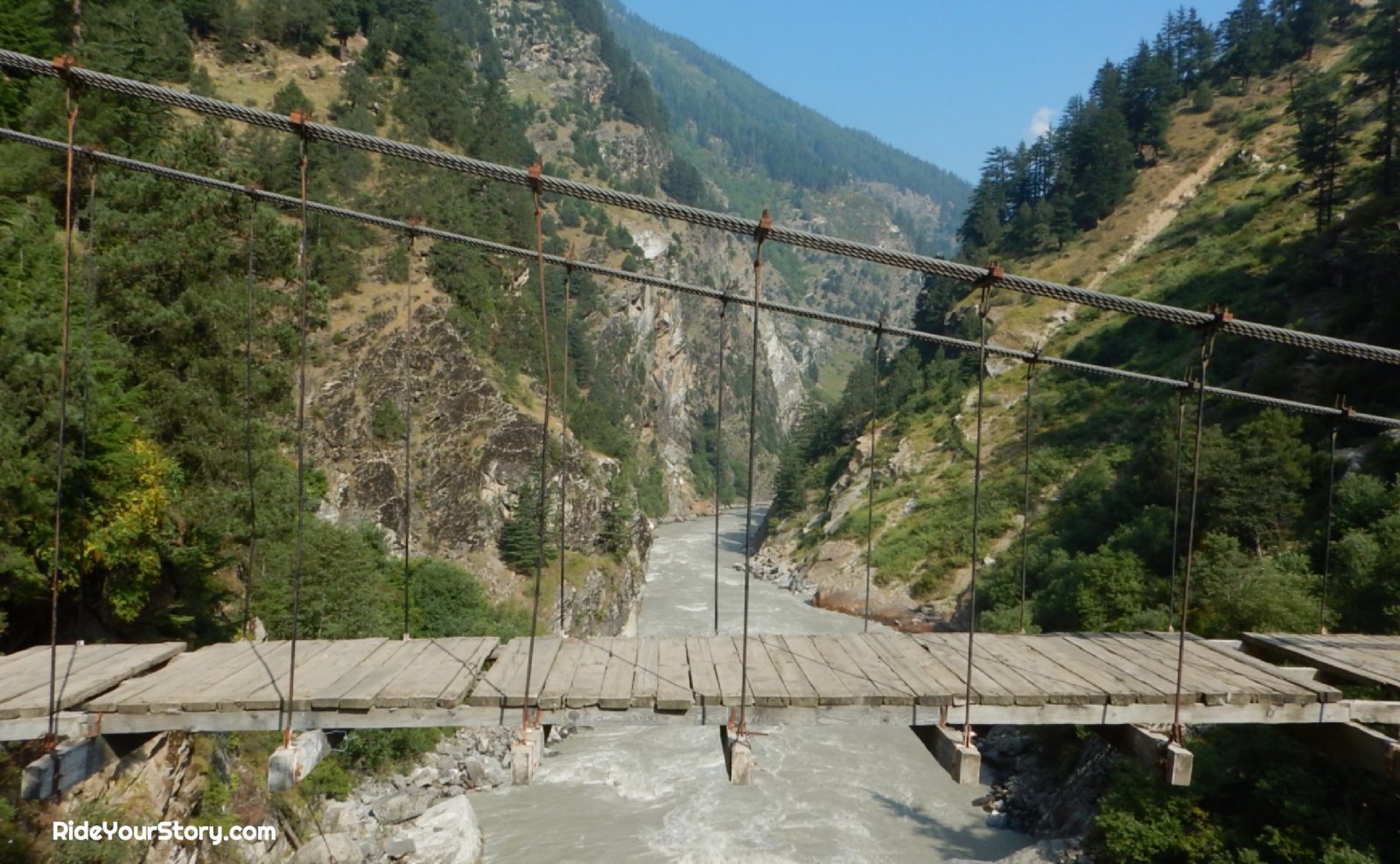 Crossing the Chenab river over a bridge and we will be leaving Killar altogether. The road condition are identical with those towards Kishtwar – rocky and bumpy. But with a more diverse landscape, at times with less green and alien planet environment. It is hard for me to imagine, which I later learn, there are scattered communities living in such a hostile inhospitable environment. With the harsh winter locking them away for months from the other populace. They will need to collect supplies and self sustained whatever the surrounding mother nature provides.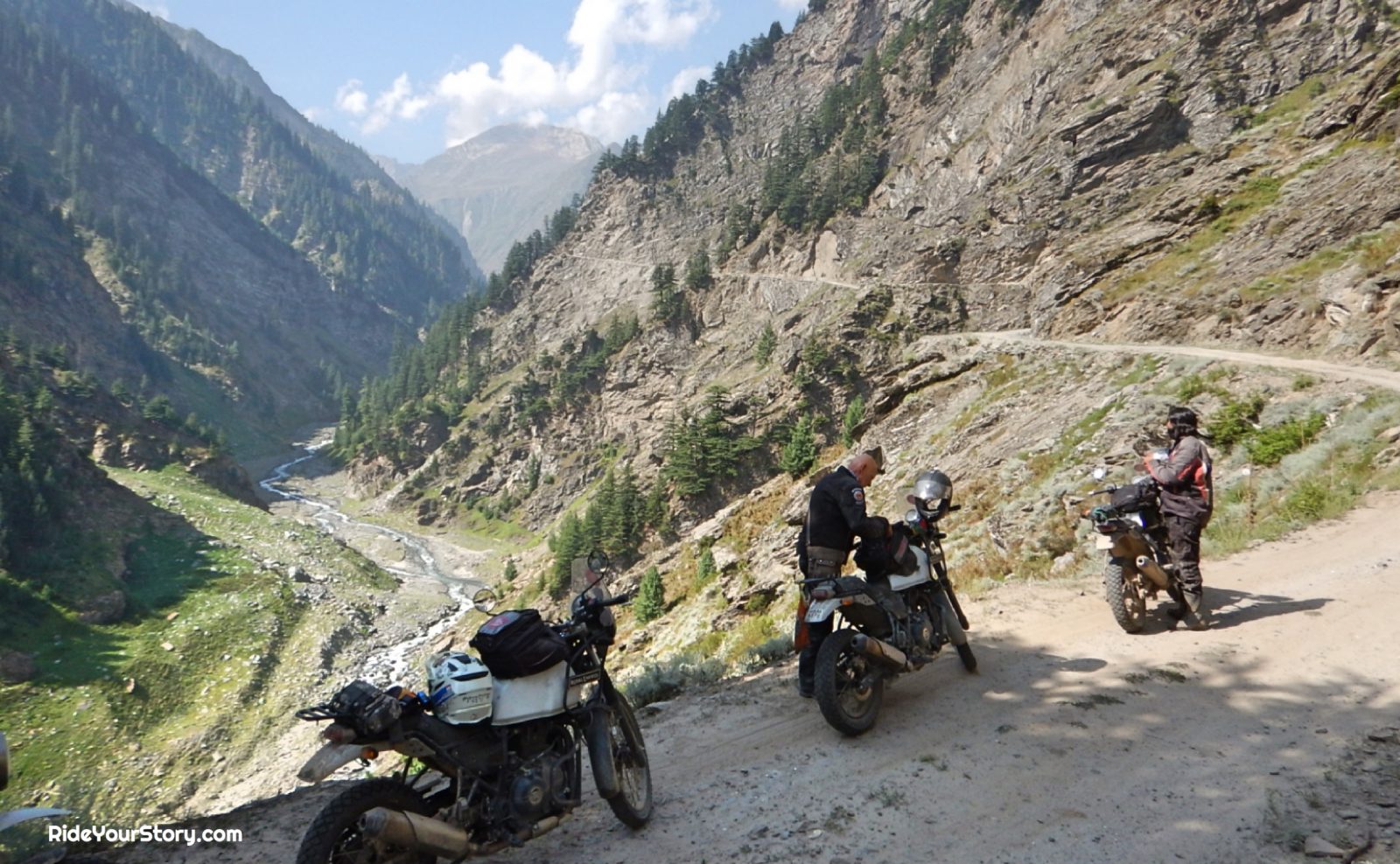 Rock blasting is constant maintenance work throughout the Himalaya. Especially during the non-winter season, battling against mother nature and gravity that keep redefining the landscape. While we may get self-entitled impatience with the stoppage and even disruption to our itinerary. Their perilous work are imperative to keep our journey ahead probable.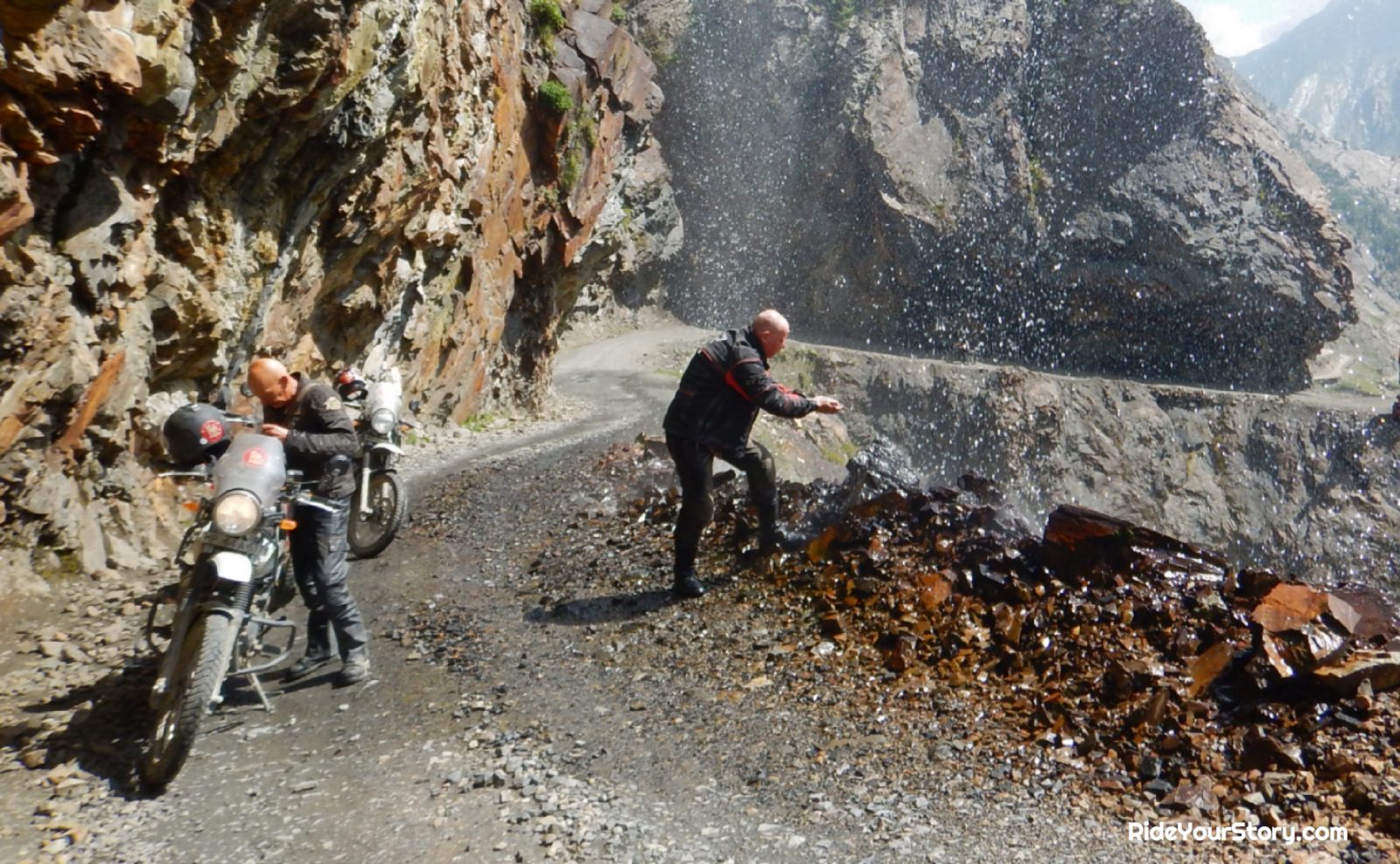 Cruising through the choppy lane flanked by the Himalayan pine trees (Pinus wallichiana) and being deluge by the waterfall along the mountain cliff are those moment to be compiled. With several days of orientation into riding in the Himalayan mountains. It is so good so far, nothing out of the ordinary to deem this road any more dangerous. Perhaps there are other stories that lies ahead.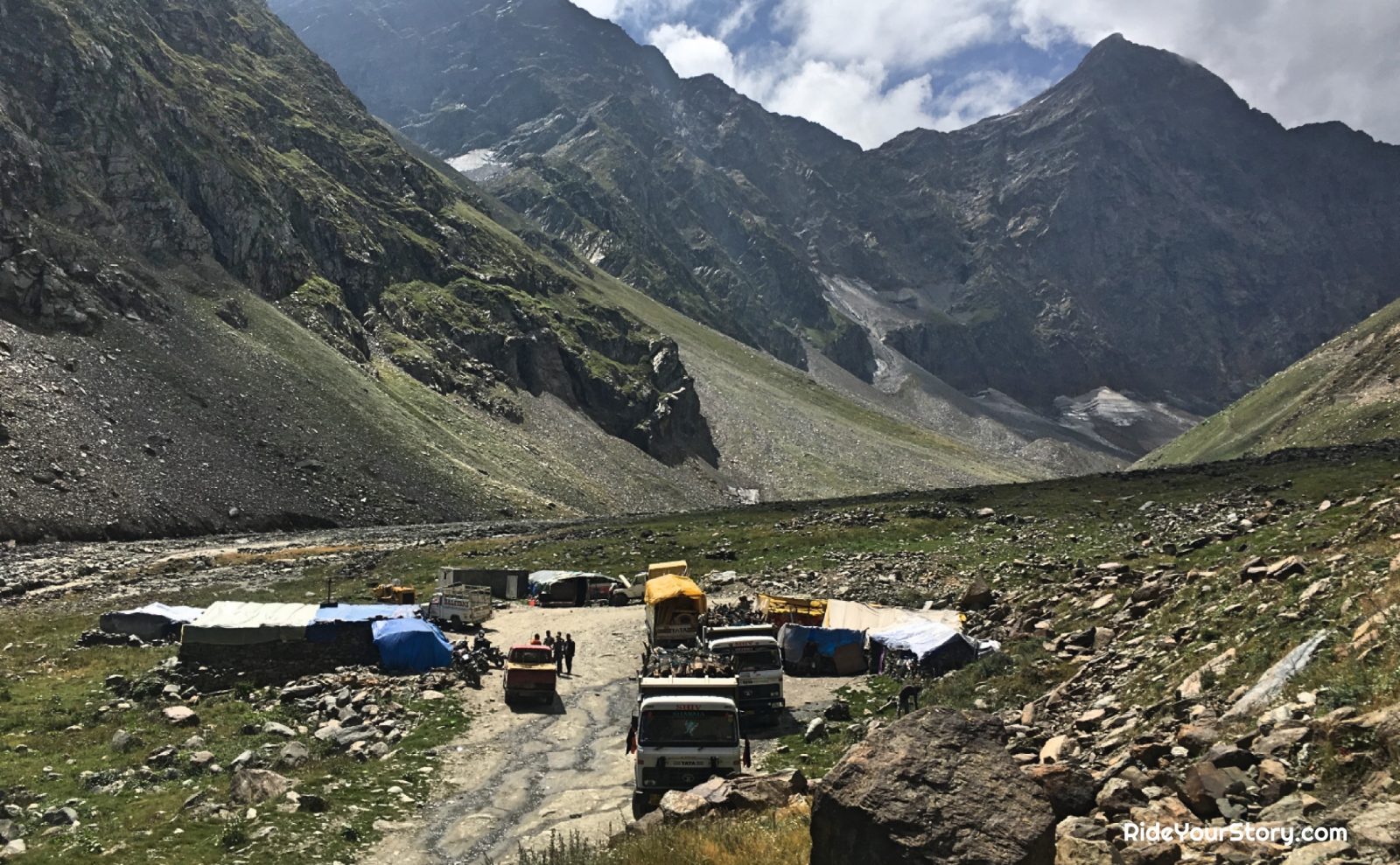 Descending down the cliff face road into Gahar Dunei (गहर दुनी) and lies within the Chenab valley are a band of activities awaiting for our arrival. For once, since this morning, we are not alone in these rocky dry terrain. Dhaba as they are known, are roadside restaurant serving travelers and truckers needing a pit-stop of their own. A little history – they are also known as Punjabi dhaba, since most truck drivers are of Punjabi descent. From a cup of chai, delicious food and a communal bed all within the warmth of the tent and a workshop with skillful mechanics within range to rehabilitate your mechanical horse. A scene that seemingly pulls out from a spaghetti western movie, or similar genre of your choice.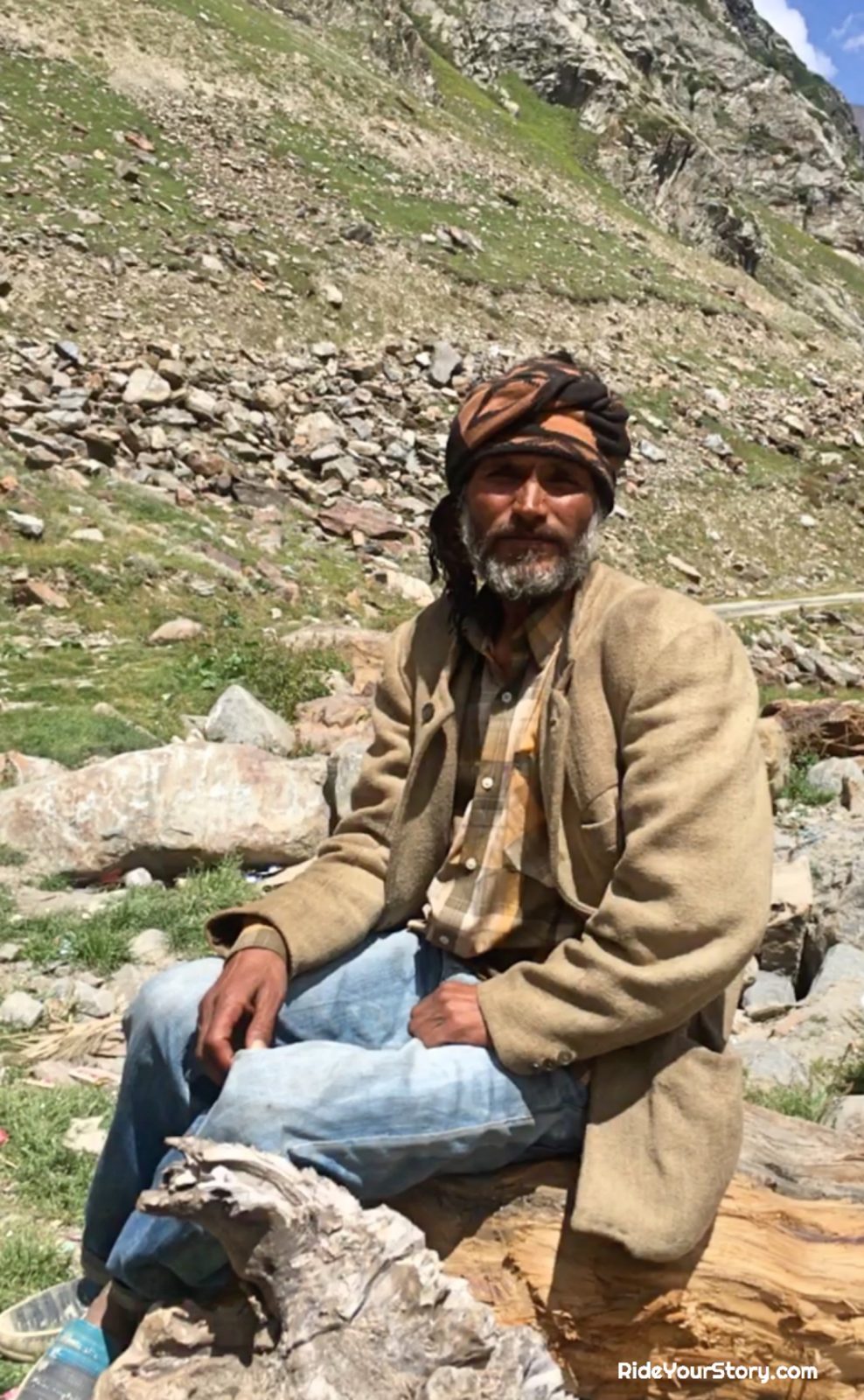 After a cup of hot chai with a masala-up Maggi noodle we are ready to make our only way out. Oblivious to the curious travelers and their enveloping stares by now. We left our comfort oasis and somewhat reluctantly, leaving our final mark before our return to our own hostile habitat – up via the Sach Pass.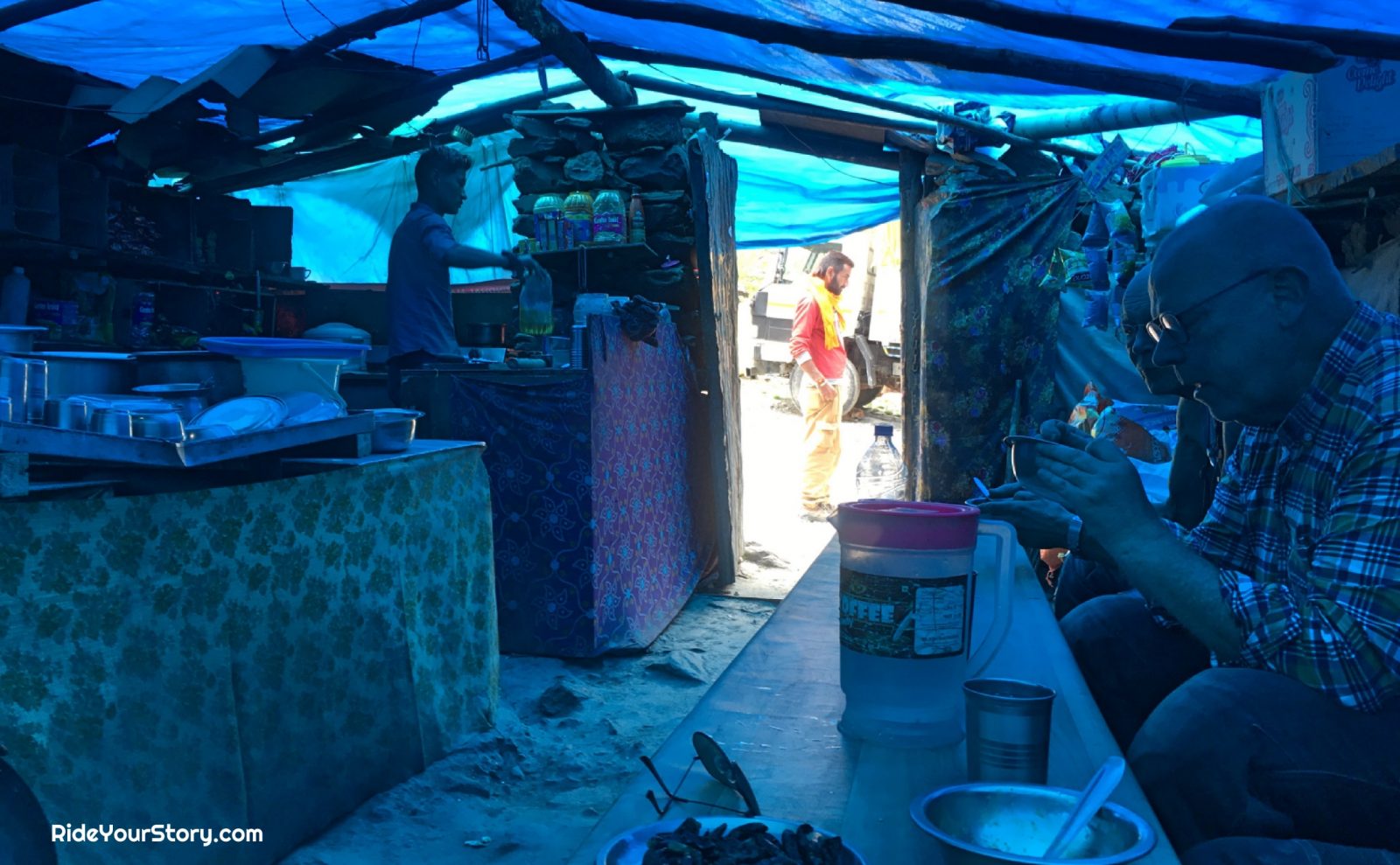 From the dhaba, it was just a 11km ascend up to the Sach Pass. The road condition did not differ much from here. And with no road blasting work within this sector, there are no unsettled boulders to maneuver around. Riding in the late summer helps, as there are no icy slippery road and snow to deal with. This road are closed from October to welcome the winter. Apart from riding up into the misty and cloudy lane. Visibility was low and before we realize, we are right here at the Sach Pass and almost missed it.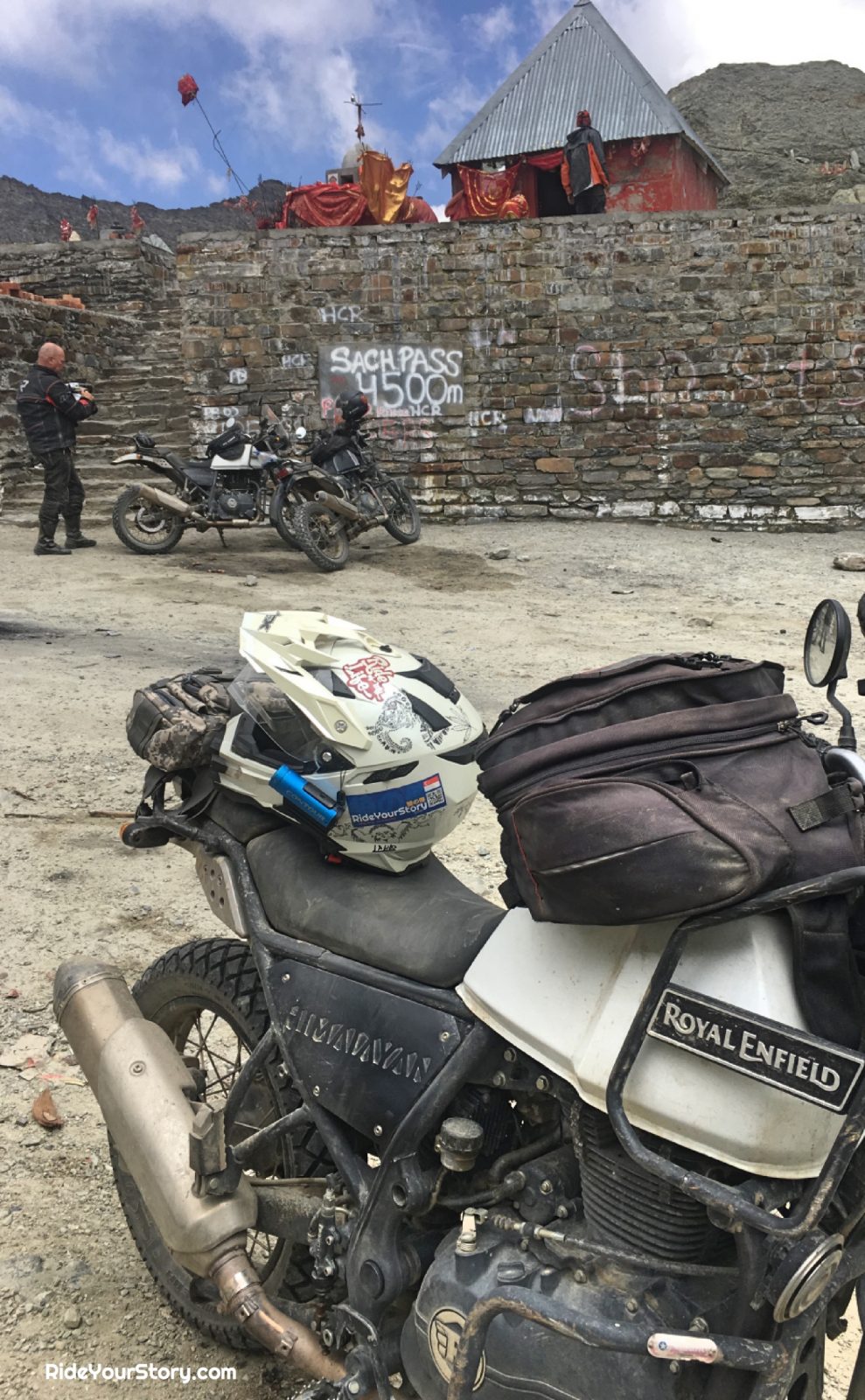 A crudely spray painted sign affirm our position and at a written height of 4500m. Depending on your source of reading, the height could range between 4360-4450. But does accuracy matter ? The mountain are always motionlessly growing and abruptly shredding.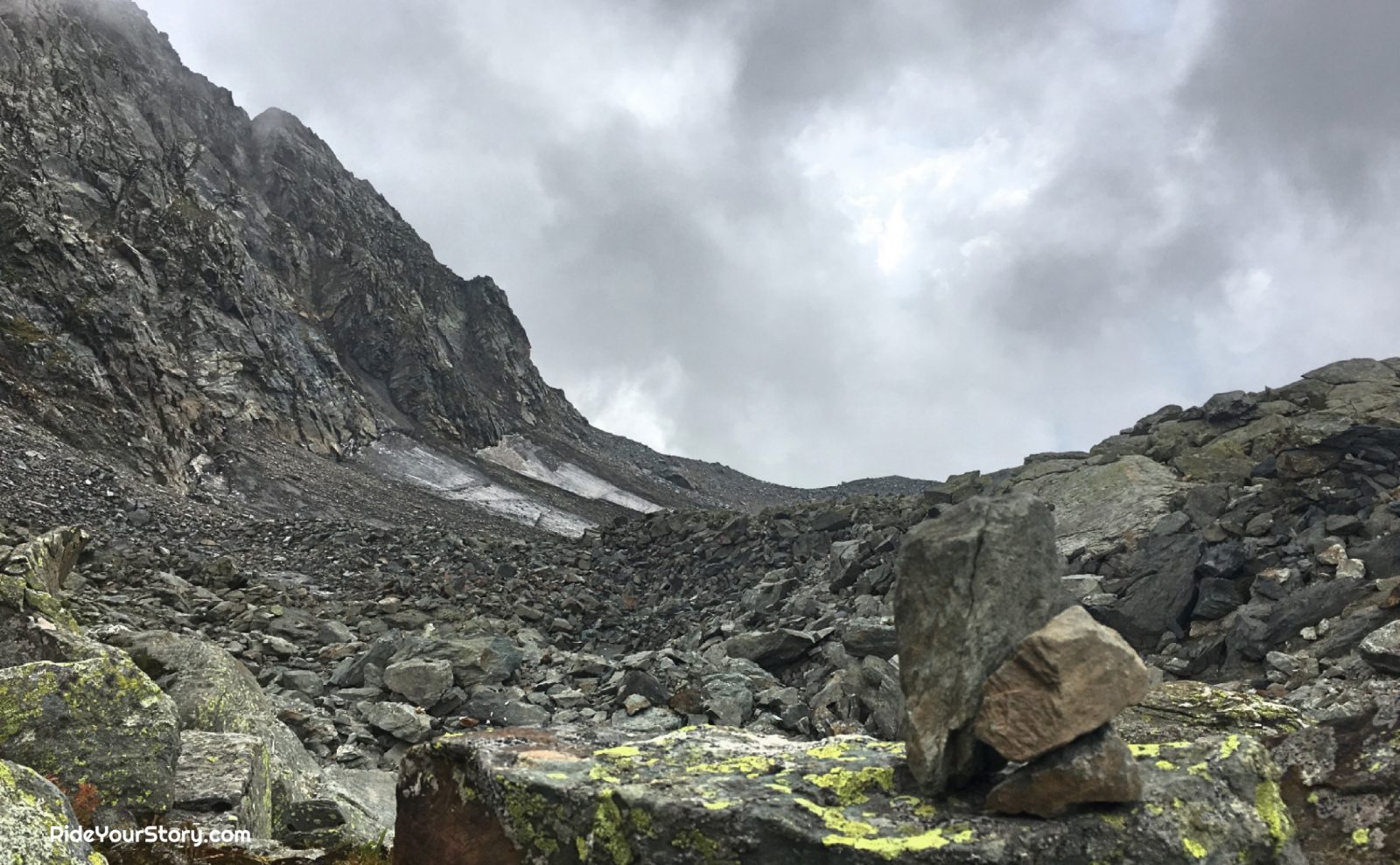 Who is Devi Maa ?
The wet chilling wind and fogging through the surrounding rocky face painted it surreal, out of this world. Seated right at the top of the vantage point was a Devi Maa temple dedicated to Mahadevi or 'Great Goddess', worshiped in India since Prehistoric time. She was assimilated into the Hindu pantheon and so came to represent the female energy or Sakti (Power) of her husband Shiva. Devi is also the mother of the popular elephant-headed god – Ganesha. There are two sides of Devi : Uma & Dunga. Devi's more benevolent side is worshipped as Uma, and this facet of her character is represented as both beauty and light. Devi's dark side is represented as the terrible Durga (the Inaccessible) who has ten arms, an impressive armoury of weapons, and who rides a magnificent lion or tiger. You can read more about her here!
Traveling in culturally rich India can be such fascinating and endless mythology to be discovered.
At this height and while we should have acclimatize by now, but we have no intention to stay any longer than we should. In order to avoid any mountain sickness for the rest of our journey. Our shortness of breath since arrival is a tell-tale sign. Hence, It is a goodbye to the Goddess and our rumbling engine will not pollute her peaceful silentious spot.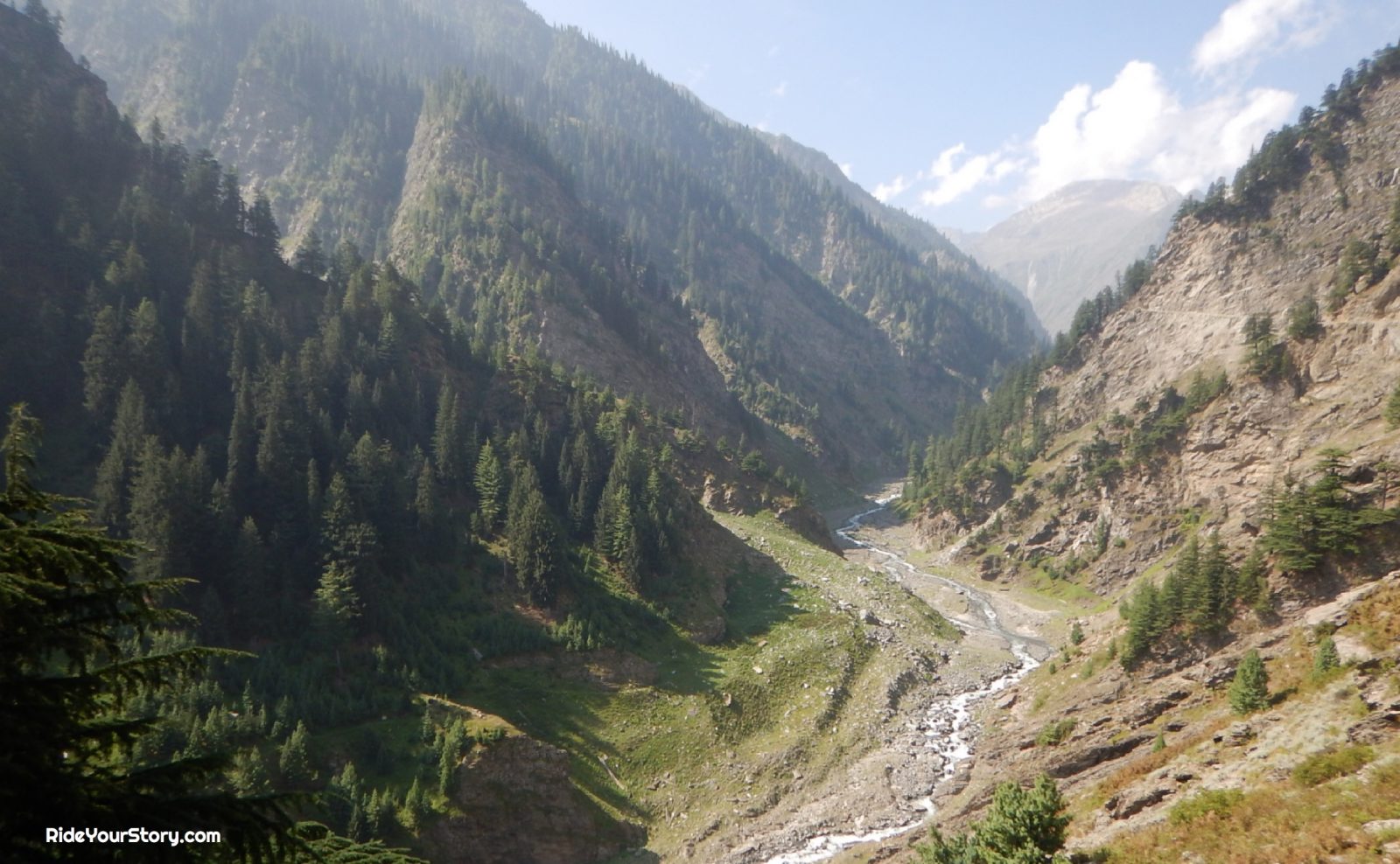 Long way down
Heading down towards our final destination for the day – a small village of Bairagarh. The road down was a bikers' delight – serpentine road. A down hill ride of seemingly endless and snaking curves. And where I tumbled once for too engrossed with the bend and not keeping my eye to where I am going. I survived this one.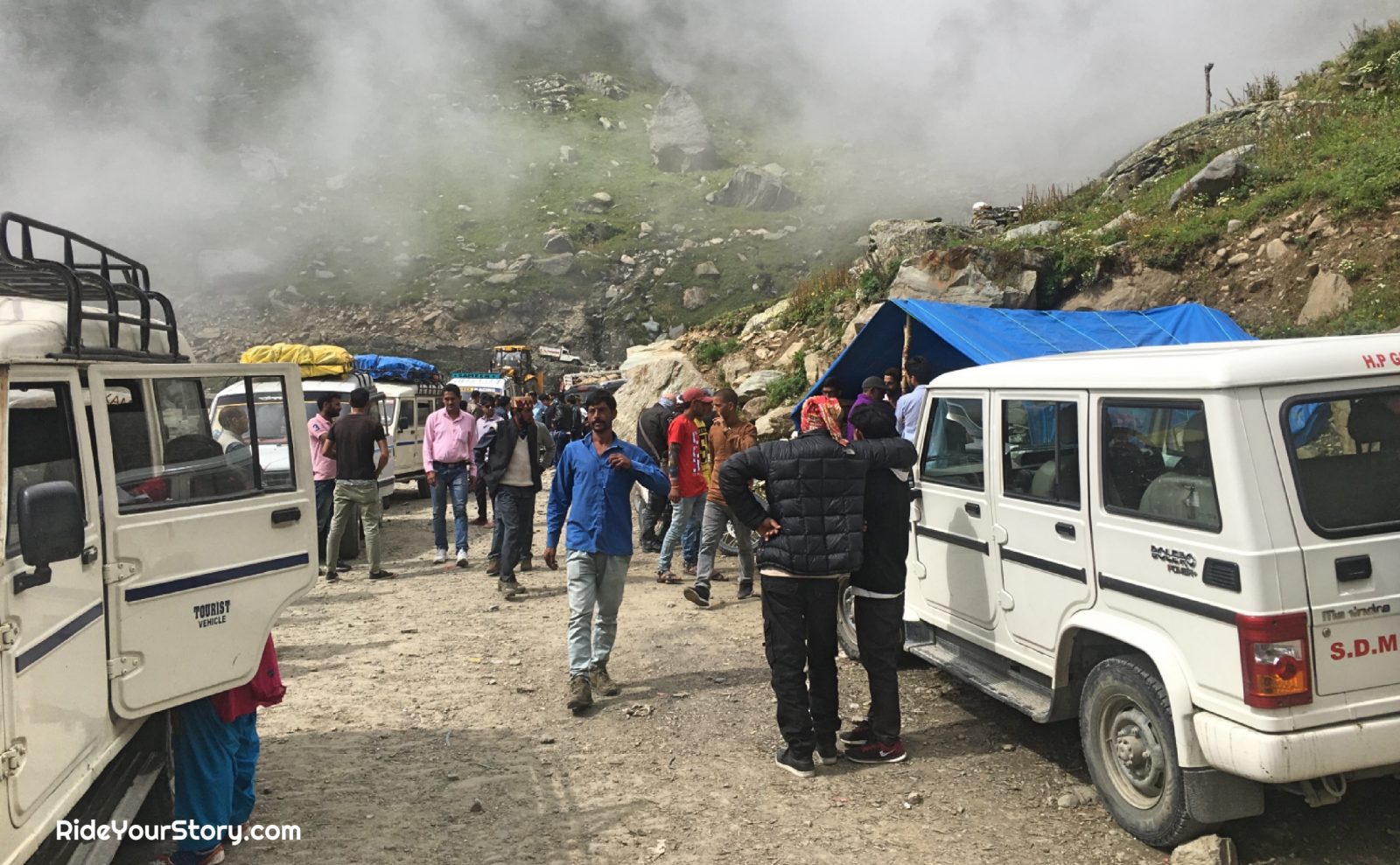 The bend ends abruptly as soon as it started right at a border patrol checkpoint. The cluster of various motor vehicle marks the end of my journey in the Himalayan mountains. Crowded travelers, mostly residents are waiting in queue by the busload to have their identify verified for entry or exit. This is where we will submit our Inner Line Permit and have a video taken for our profile, instead of just a photo. For a reason which I learn after the trip, a dark chapter in the Satrundi (सतरुन्दी), where the checkpoint is located. Perhaps this was one of the reason why this road is considered one of the most dangerous.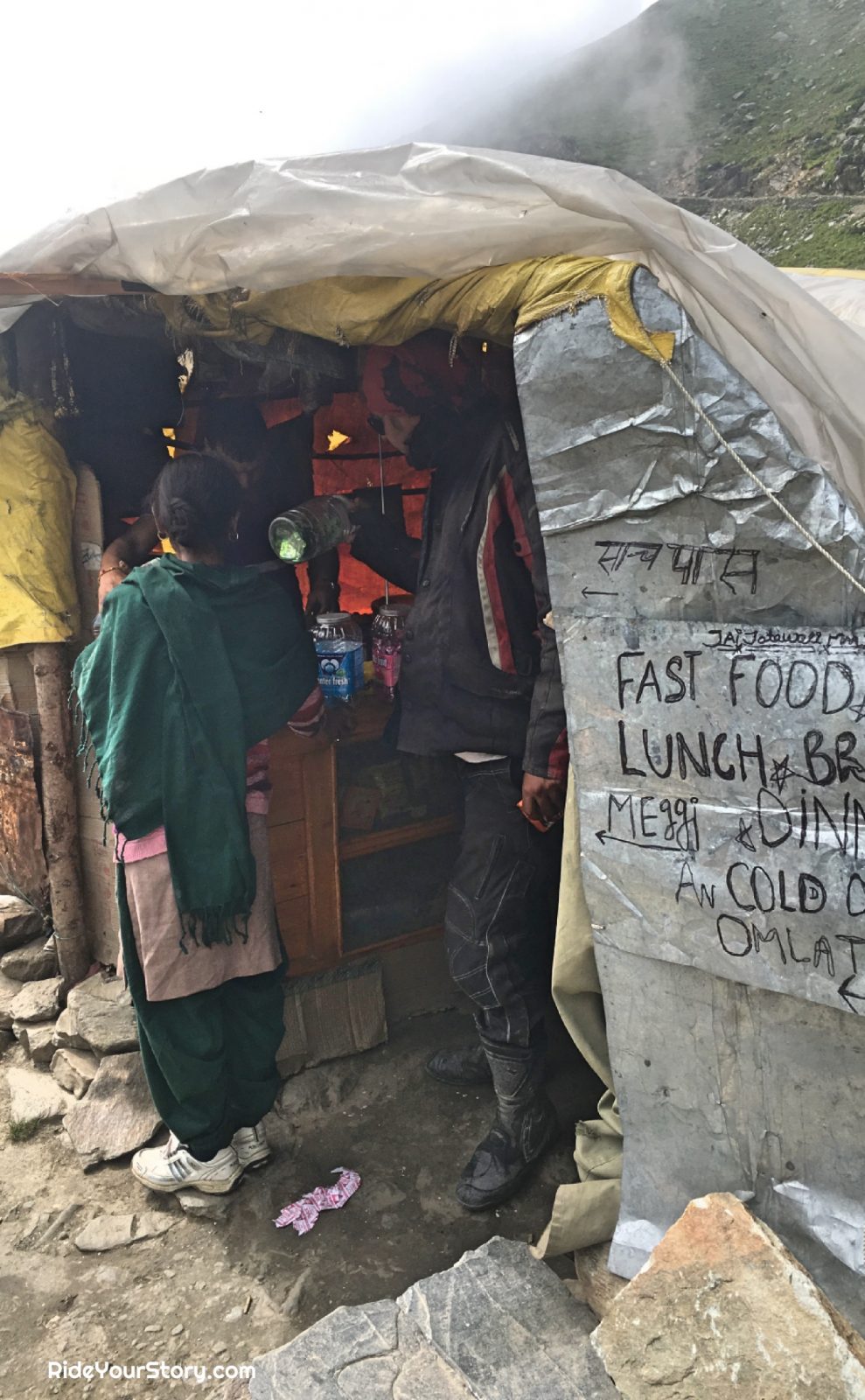 The Chamba Massacre
In 1998, thirty-five people was killed by the religious separatist militant extremist active in the region of Jammu and Kashmir – known as the 1998 Chamba massacre. Right in the vicinity of Satrundi, nine laborers was killed and three wounded. A police constable who was returning from Pangi after a vacation was similarly murdered. The cowardice act on innocent civilian caught in the religiously-disguised politic was a constant reminded of the dangers still lurking in this region since the Partition of India since 1947.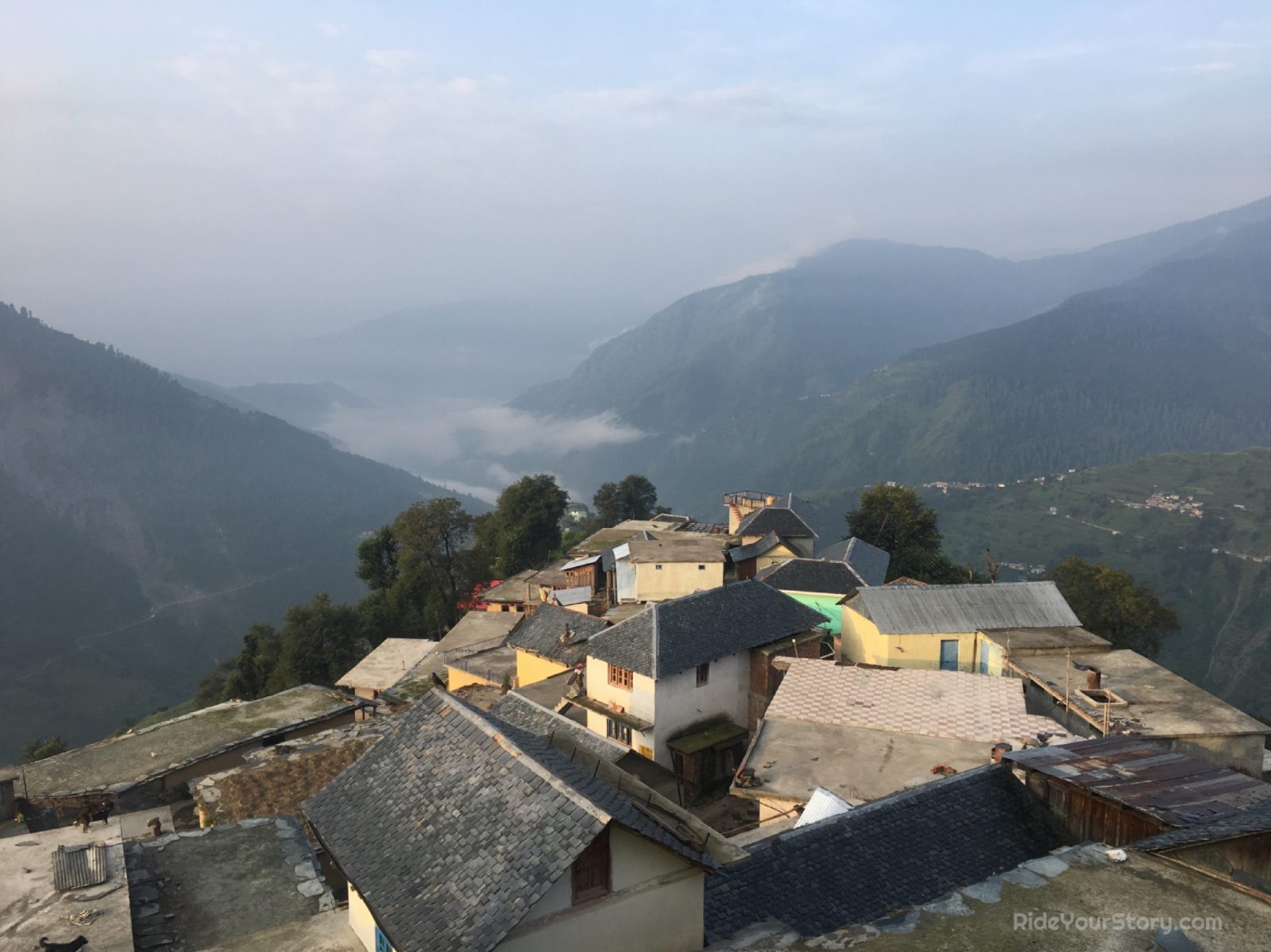 Bairagarh
The passage to Bairagarh (बैरागढ़) was a dispiriting and reluctant. All good and bad times will need to come to an end, and a new chapter awaiting to begins. It is inevitable I will need to return to my comfort zone – an urban jungle. This modest idyllic village offers a perfect transition phase – a very quiet and peaceful village. The life of the occupants seems tough by my standard, but they are happy and self sufficient. Drying and tending their harvest on their roofs, coupled as a roaming space for their livestock. They are efficiently making use of available flat surface on this hilltop, amongst and surrounded by the vast mountainscape.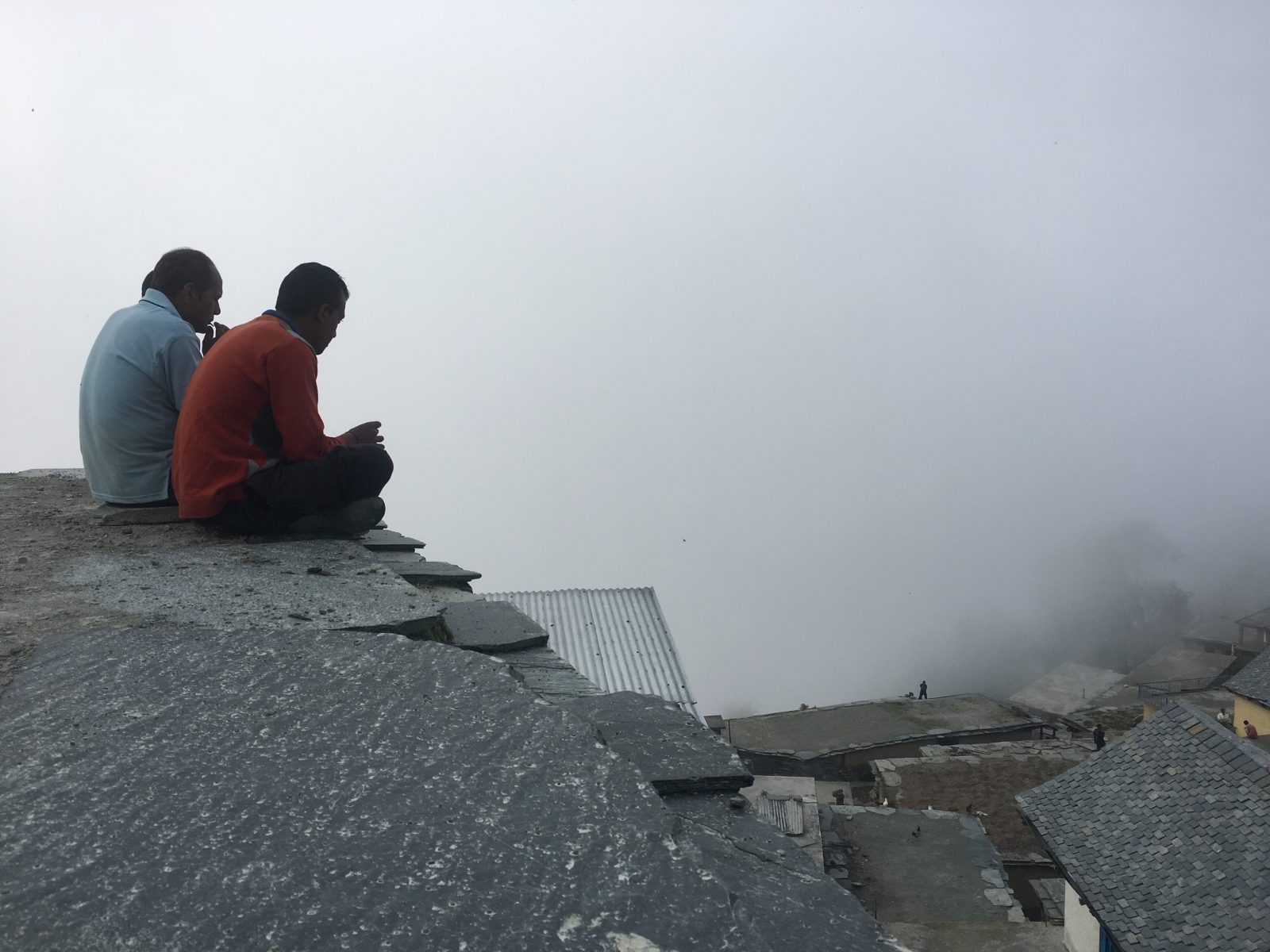 A perfect place to recollect your journey and to contemplate your next route.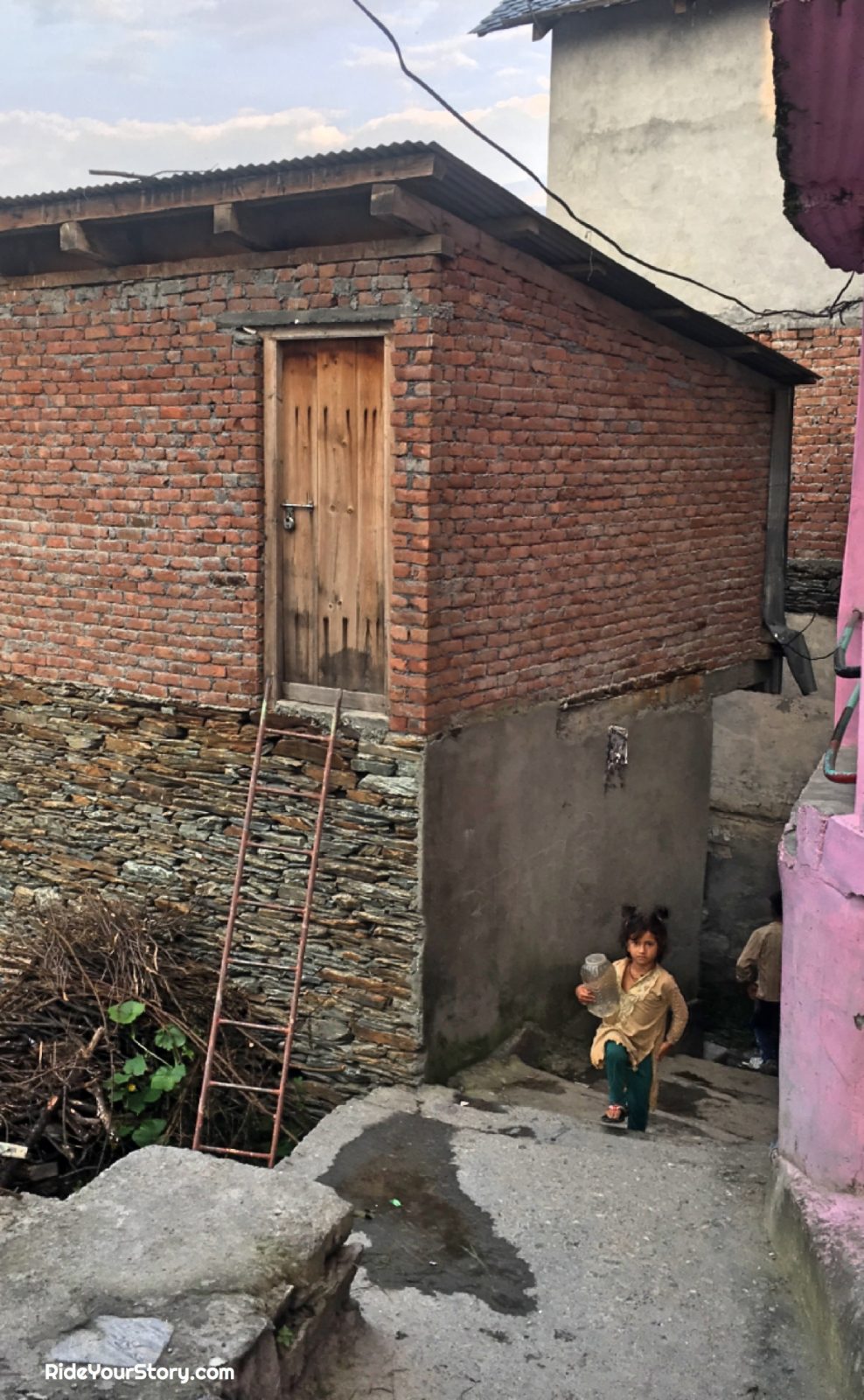 ---
The Ride Video
And lastly, the video of the ride from Killar – Sach Pass ending in Bairagarh. So is it dangerous ? You will be your own judge. Better still, ride your own story…
---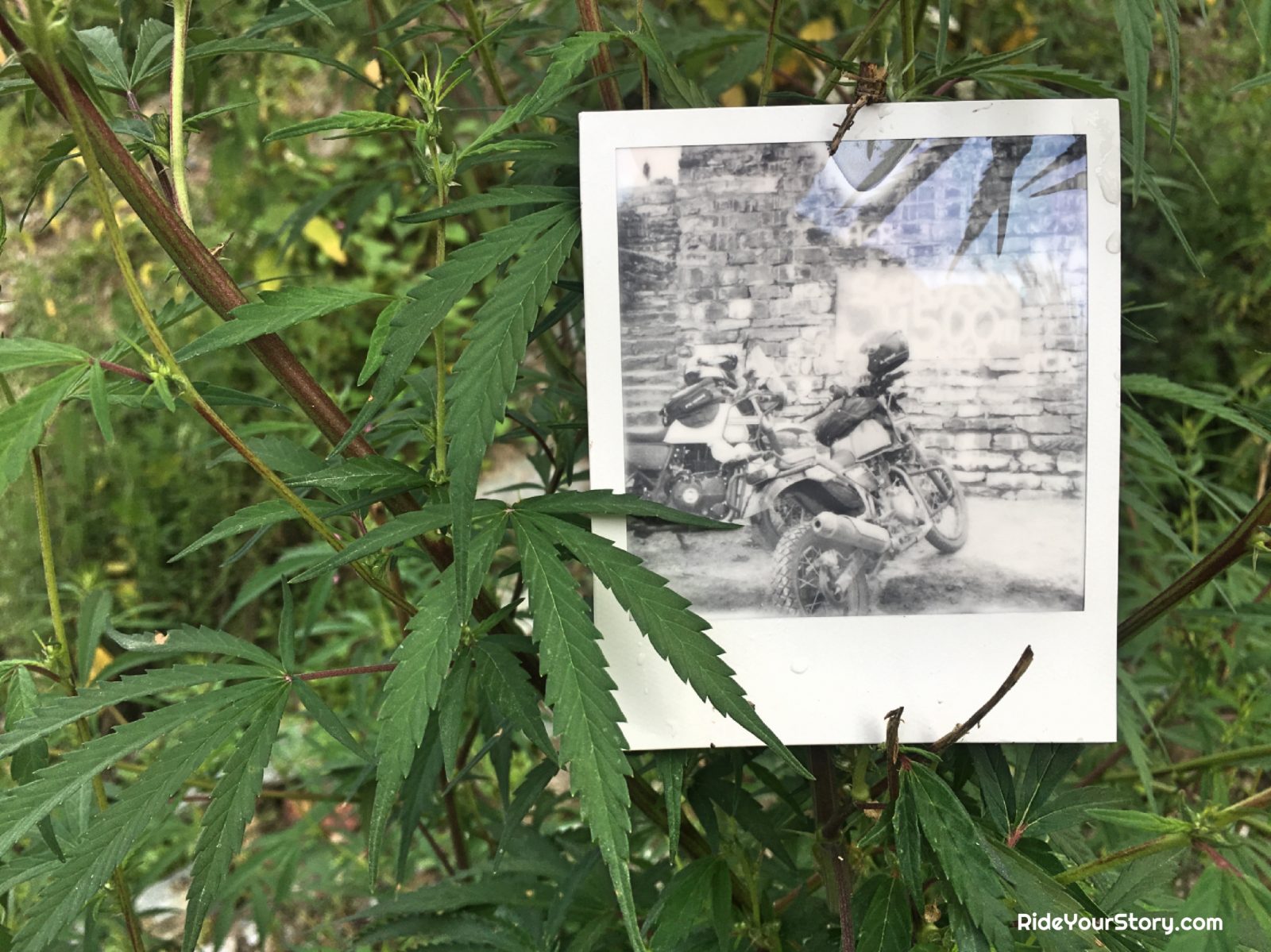 A Polaroid shot on top of Sach Pass, holds itself among the hemp in Bairagarh. A 'sinful' plant found all over the Himalaya. There is a reason why it is call a weed. Read more about it here : Did you smell it ?