One's journey is not fully complete until you savor the food by dining the way the local does – on the street.
Bucking the trend of taking selfie or food, filtered with an overly-saturated photo and geo-tagging a ritzy cafe in a 'Influenceable' location. Those recognizable and 'trending' franchise or stand-alone are often fronted by the humanoid just capable enough to execute the steps from the operational manual. The authentic local food culture … and those that are deem not profitable and systematize will be lost in time.
Every country has their own street food history and culture. From Taiwan (夜市), Bangkok (อาหารข้างทาง), Indonesia (warung), Hong Kong (大排檔) just to name a few regionally. For Singapore, the street food scene is dying since the Kopitiam and followed by Food Republic etc. Conspiracy theorist is on the pretense of hygiene to systematically exclude and eventually eliminate the mom and pop store from the street by the capitalist big brother. But the hawkers itself are to be blamed for the lack of creativity in our food culture, that is a dilemma for our 'obedient' society as a whole. But we are not here to interrogate this theory. I will reserve this maybe for a future post. We are here to celebrate the 'beauty' of street food while it is yet a crumble to consumerist expectation.
Japan, a model of refine culture and perfectionist. My impression at least, was not to expect a mobile make-shift stall by the roadside in this modern time. But here they are. Maybe there are more elsewhere, but this will be my first taste of street food in Japan.
The Street Search
By night time, the ambience of the streets along Hakata will be magically transforms from cold faced architecture to neatly lined with make shift tent age of an even smaller dimension, but livelier and self-contained and sufficient universe within an allocated spot.
Touting was was I would not expect in Japan. The dishes from the yatai that we wanted to try was already full house. We could wait in line but the laughter from the group within the tent seems ready to last through the night. We lead ourselves away from the main street and to the edge of the Hakata, where more yatai could be found. Calling for us and dashing out from one of the yatai was a smiling old lady and waving a menu to us for our selection. The menu was translated into 3 languages, giving a clue of their main source of gaijin customer. We were taken aback by her initiation, though way less intimidating than what I have encountered elsewhere in South-East Asia, but surely it is aggressive by my Japanese experience so far (excluding the towering protein enhanced African bouncer along Shinjuku). The menu was decent enough for me, none of those sushi and udon that we initially intended. We are not really here for the food but for the participation. I wanted to delve into their politeness culture, was it just a façade for the rest of the world. In contrary, her earnestness was what enticed me, with curiosity. I wanted to explore the darker side. And being a one-lady show, she seems harmless enough.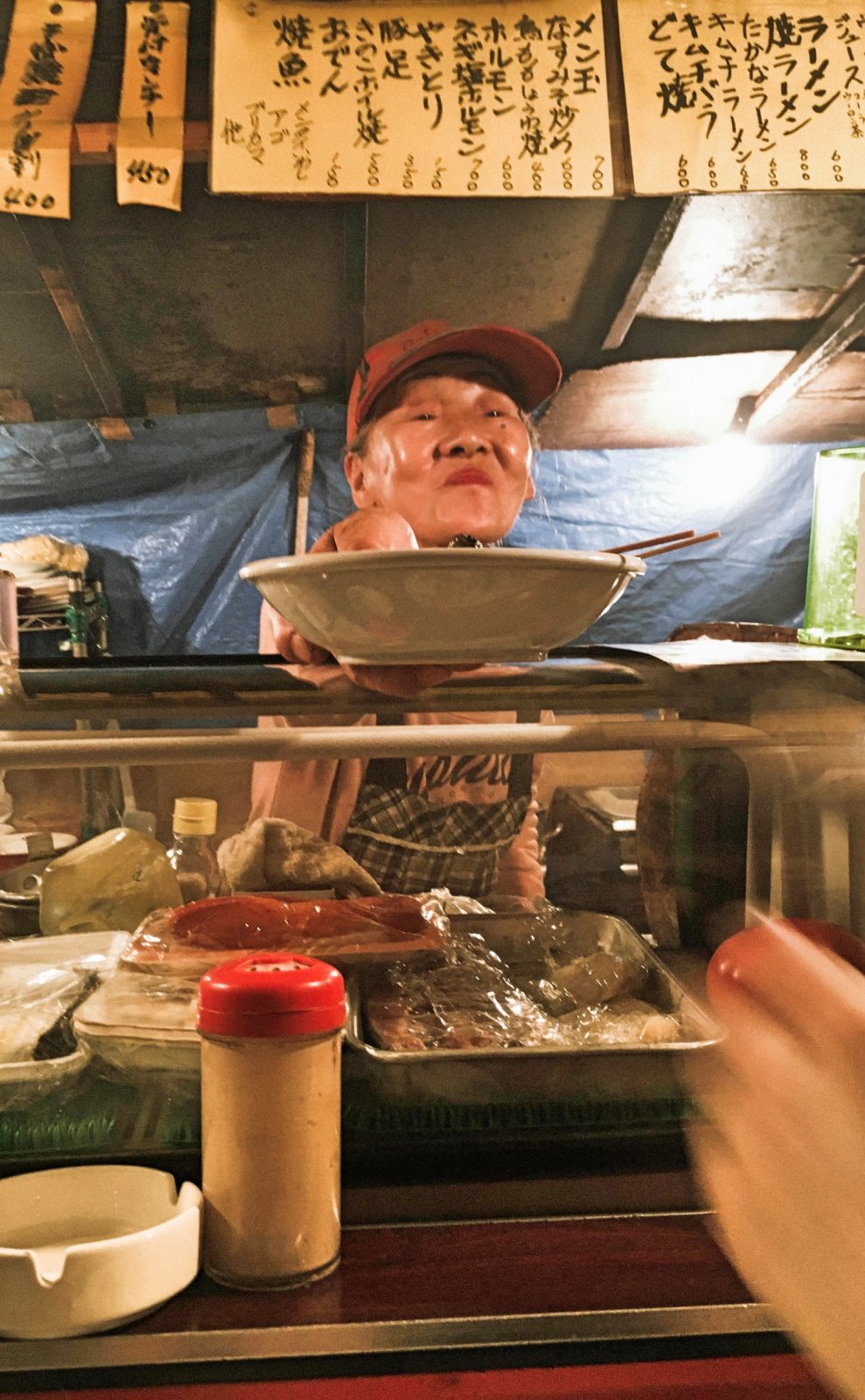 We were guided to our seat right in front of the U-shaped kitchen bar, with all equipment and service within reach of the cook right in the middle. A lone young office lady occupying the seat on the side. I learned there is an unwritten rule those seats are reserved for the regulars. We took our time to place our order, it is just an excuse to assimilate ourselves into the environment within. I am enjoying the moment. The office lady seems to understood us when I was discussing with my partner on our selection, in a mixed of Mandarin, English and Cantonese. Whichever language she can hear, she stealthy help translate our request to the cook directly, without making any eye contact with us. I guess she needed her privacy and I can only thank her in silence. Perhaps this is her after office hour time to distance from the society and we unfortunately made an intrusion. Or simply she is just irked by the influx of tourist into her hometown and now even into a modest enclosure of her paradise. It is indeed one of the closest cities in Japan to South Korea and Shanghai, where we arrived from. Hence it is very popular among travelers and expat from these neighbors. We respected the limited space we have between us and kept our conversation silent. It doesn't bother me at all as this is what I am here to experience. It is not about the food, but every sense of time and moment of participation, all of it.
Party's Over
Our amiable peaceful boundary did not last very long. Only a few moment into our private indulgence of our meal, our yatai was swarmed in by a company of joyous, albeit alcohol induced, sararīman (サラリーマン) or salaryman. They took up all the remaining space, with us giving up half of our territory. I am not complaining, their presence literally lit up the otherwise stiff atmosphere. Their uniformed alcohol bloated red face suggested they had a very good time from their last stop. All drunkenly happy men would suggest they just came from a hostess bar, as all judgemental ones would. Or simply it is too early to go home, otherwise they would be implicated for not working hard (long hour) enough by the other boss back home. The men seems happily reliving their merry moment from their previous hangout, I am sure it is not work related, rather loudly by Japanese standard. I try to take a hint through the glance of the face of the now awkward corner sitting office lady. But the poker faced office lady did not mutter any expression, I guess she is just being herself. The guy next to me try to offer his side of the story, which I can only nod in reply, for many times that night. It doesn't matter whether he had a clue that I don't understand at all. The lady cook was very well involved in their conversation, while chopping, cooking, garnishing and serving in between. Alcohol, though prohibited and restricted by most religion. But you can't deny like everything else it has it's light and dark side. Taken in moderation, it is a courage booster and breaks down all social barrier. Any more and you may get an overdose of your courage over your ability and get yourself into social trouble. And I learn a new word – Religionism, while researching from writing this post. As above, just like everything else!
It wasn't long before the office lady hurried her meal and left. Her time of peace disrupted for the night. I am glad we are not the main reason, at least that is what I like to believe. But the cheers of the hungry man lingers on and I was invited to kanpai together with them ,whatever they are celebrating for. It doesn't matter, happiness are contagious.
ありがとうございました。さようなら。
We are soon done for the night, bidding farewell and final kanpai with our new friends for the night. We bow and wave good bye to each other. Will I be back again ? Maybe, except for the bill and likely not with an empty stomach. The servings are small and price is steep for a street food. Our total bill could fetch us a good complete meal in an upscale restaurant. But no regret this time. You won't get the same authentic atmosphere in those fancy restaurant – un-associated mixed of social class in an intimate settings, a broken down barrier between the guest and the kitchen in an non-pretentious ambience. It is a precious travel experience, at least for a short-term visitor.
---
Reference:
The best site to get updated info on Yatai in Fukuoka :
YOKAnavi